UPSC Announced IFS Main Examination Time Table 2015
Indian Forest Service (IFS) is one of the Civil Services of India created in 1966, the IFS officers are recruited and trained by the Central government but their services are placed under state cadres, and they have to serve both under the state and Central governments. Union Public Service Commission (UPSC) announced the Indian Forest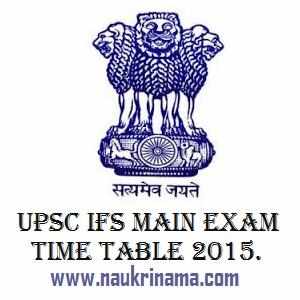 Indian Forest Service (IFS) is one of the Civil Services of India created in 1966, the IFS officers are recruited and trained by the Central government but their services are placed under state cadres, and they have to serve both under the state and Central governments.
Union Public Service Commission (UPSC) announced the Indian Forest Service main examination Time Table. You can check the Time table available here.
UPSC Announced IFS Main Examination Time Table 2015
Name of Organization: Union Public Service Commission
Name of the Post: Indian Forest Service
Date Of Filling Detail Application Form: 16th – 28th October 2015
Date of Examination: 21st November 2015 to 2nd December 2015
For Time Table: CLICK HERE
or
You can Follow the steps given below:-
Visit to the Official website of UPSC.
Now click on "Time-Table – Indian Forest Service (Main) Examination, 2015"
You will get the Time table
For more Time Table click here
To view more UPSC jobs click here
See: UPSC Declared IFS and CSE (Prelims) Written Exam Result 2015
For official Website of UPSC: CLICK HERE
Union Public Service Commission (UPSC) is India's central agency authorized to conduct various examinations based on Civil Services, Indian Forest Services, Engineering Services, Combined Defense Services, National Defense Academy, Naval Academy, Combined Medical Services, Special Class Railway Apprentice, Indian Economic Service/Indian Statistical Service, Combined Geoscientist and Geologist, and Central Armed Police Forces (Assistant Commandant). Presently the chairperson of UPSC is Deepak Gupta and its Headquarters is located in Dholpur House, Shah Jahan Road, New Delhi – 110069.