UKPSC Polytechnic College Speaker Interview Details and Schedule 2016, ukpsc.gov.in
Uttarakhand Public Service Commission has issued an official Notification conveying Interview Details and Schedule for Spokesperson in Government Polytechnic Colleges in Technical Education Department. The interview will commence from 24.2.2016 to 27.2.2016. The Screening Test Results for the said posts were declared 18 July 2014 and 31 December 2015. The interviews for the said post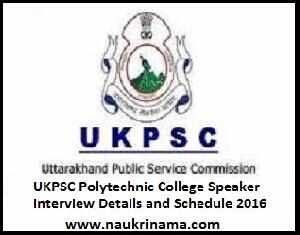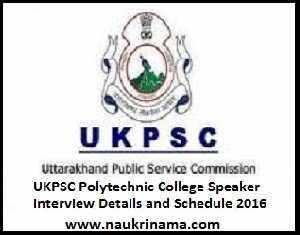 Uttarakhand Public Service Commission has issued an official Notification conveying Interview Details and Schedule for Spokesperson in Government Polytechnic Colleges in Technical Education Department. The interview will commence from 24.2.2016 to 27.2.2016.
The Screening Test Results for the said posts were declared 18 July 2014 and 31 December 2015. The interviews for the said post will be conducted in two sessions, Morning 9:30 and Noon 12:30.
UKPSC Polytechnic College Speaker Interview Details and Schedule 2016
Name of Organization: Uttarakhand Public Service commission
Name of Post: Spokesperson
Name of Department: Polytechnic College, Technical Education
Date of Interviews: 24.2.2016 to 27.2.2016.
Click here to view Official Advertisement
Click here to view UKPSC Interview Schedule
You may follow the steps given below:
Open Official Website
Click on राजकीय पाॅलीटेक्निकों में विज्ञापन सं0 05/डीआर/सेवा-2/2011-12 दि0 23/3/12 के सापेक्ष प्रवक्ता (आई.टी.) एवं प्रवक्ता (सीएस/सीएसई/पीजीडीसीए) पद हेतु साक्षात्कार सम्बन्धी विज्ञप्ति एवं साक्षात्कार कार्यक्रम
Click on साक्षात्कार विज्ञप्ति हेतु यहां क्लिक करें for detailed advertisement
Click on साक्षात्कार कार्यक्रम हेतु यहां क्लिक करें for interview schedule
You will get the required notification in pdf. format.
Click here for more Exam Notifications
Click here for UKPSC Government Jobs
Click here for Official Website