OPSC Civil Service Exam 2011 Interview Schedule, opsc.gov.in
Odisha Public Service Commission has issued an Official Notification Stating interview dates for the remaining 135 candidates is connection to Civil Service Examination 2011. The Interviews for these candidates are scheduled to be held on 25.1.2016, 27.1.2016 and 28.1.2016. The Personality Test for other than these candidates was notified earlier through an official notification dates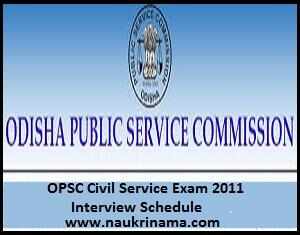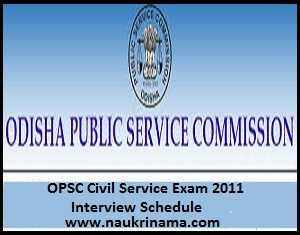 Odisha Public Service Commission has issued an Official Notification Stating interview dates for the remaining 135 candidates is connection to Civil Service Examination 2011. The Interviews for these candidates are scheduled to be held on 25.1.2016, 27.1.2016 and 28.1.2016.
The Personality Test for other than these candidates was notified earlier through an official notification dates 2.1.2016. The candidates are required to download their Intimation Letter and Attestation Form which will be uploaded soon on the official Website of OPSC .
OPSC Civil Service Exam 2011 Interview Schedule
Name of Organization: Odisha Public Service Commission
Name of Exam: Civil Service Examination 2011
Date of Personality Test: 25.1.2016, 27.1.2016 and 28.1.2016
Click here to view Official Notification for Interview Schedule
You may follow the steps given below:
Open Official Website.
Click on 'Programme of Personality Test in connection with Odisha Civil Services Examination-2011 in pursuance of Advt. No. 05 of 2011-12'
You will see the notification in pdf. format.
Click here to see OPSC Interview Schedule for Remaining Candidates
Click here to view more Results
Click here to Odisha Government Jobs
Click here for Official Website