Rajasthan Patwari Exam 2015 Timings Changed, Important Instructions for Candidates
Rajasthan Subordinate and Ministerial Services Selection Board has come up with a new change in Rajasthan Patwari exam 2015 which is going to be conducted on 13th February 2016. www.naukrinama.com has already informed you about the time schedule of the exam, now there is a slight change in time of reporting for examination. The time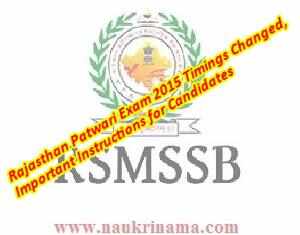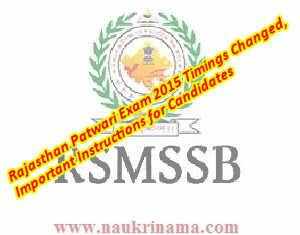 Rajasthan Subordinate and Ministerial Services Selection Board has come up with a new change in Rajasthan Patwari exam 2015 which is going to be conducted on 13th February 2016. www.naukrinama.com has already informed you about the time schedule of the exam, now there is a slight change in time of reporting for examination. The time of reporting which was scheduled to 10:00 A.M to 1:00 P.M now it has changed to 12:00 P.M to 3:00 P.M. Candidates are requested to reach exam centre by 11:00 A.M.
Candidates can check further details given below:-
Rajasthan Patwari Exam 2015 Timings Changed, Important Instructions for Candidates details:-
Name of Organization: Rajasthan Subordinate and Ministerial Services Selection Board
Name of Examination: Rajasthan Patwar Exam 2015
Date of Exam: 13th February 2016
Exam Timing: 12:00 pm to 3:00 pm
Reporting Time: 11:00 am
Click here to see official notification
Candidates must have a glance on it
Necessary items to bring during exam:
5 cm*2.5 cm sized new colored passport size photo
identity card like Voter ID, Addhar Card, PAN card, Passport, Driving license etc. the photocopy of identity card will be void.
Blue Ball/ Ink pen
Clip Board
Things should not bring:
Paper cutting
Geometry Box.
Plastic pouch
Calculator
Scale
Pen Drive
Rubber
Log Table
Scanner
Hand bag
Purse
Mobile Phone
Bluetooth
Ear Phone
Microphone
Pager
Watch
Instructions to be followed during examination:
Candidates should report at examination centre 1 hour before exam time.
Candidates will be able to enter exam hall 20 minutes before exam time.
Candidates coming after 12:00 p.m. will not be able to sit for exam.
Dress Code to be followed:
Candidates should wear simple dress.
Candidates should not wear Suit, tie, muffler, jacket, coat, jerkin, blazer, shawl
Candidates should wear shirt, warm jersey/ sweater without pocket and big button
Candidate should not wear such kind of dress in which easy accessibility of hiding any paper.
Female candidate should tie rubber band or simple hairpin
Candidates will be required to open sweater, jersey, shoes or scarf during checking
Candidate should not wear any kind of neck piece or amulet
Click here to see notification for important instructions
High Security during exam
Due to cheating cases happening during government examination, this time Rajasthan govt. has taken major steps in Rajasthan Patwari examination 2015. RSMSSB President R.K Meena has shared information about the securities to be followed during examination. "To stop cheating through Bluetooth device in Patwari exam, board has installed jammers in 2,798 exam centres. Generators are also installed in centres" said Meena.
Total 8,18,719 candidates will appear for 4,400 vacant post of Rajasthan Patwar. Sources has also mentioned that the envelope of question papers will be opened in front of candidates. To keep watch on coaching teachers, board will alert a team of CID.
We will soon bring more information regarding Rajasthan Patwari examination 2015. Candidates must visit our visit for more information.
Click here to see Rajasthan Patwari Exam 2015- Pattern and Syllabus