IBPS Clerk Exam 2015- Pattern and Syllabus
A Clerk is a white-collar worker who conducts general office tasks, or a worker who performs similar sales-related tasks in a retail environment (a retail clerk). The responsibilities of clerical workers commonly include record keeping, filing, staffing service counters, screening solicitors, and other administrative tasks. IBPS Clerk Exam 2015- Pattern and Syllabus Name of Organization: Institute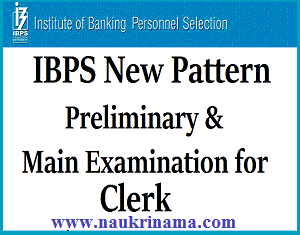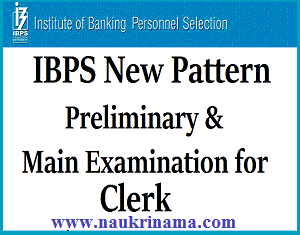 A Clerk is a white-collar worker who conducts general office tasks, or a worker who performs similar sales-related tasks in a retail environment (a retail clerk). The responsibilities of clerical workers commonly include record keeping, filing, staffing service counters, screening solicitors, and other administrative tasks.
IBPS Clerk Exam 2015- Pattern and Syllabus
Name of Organization: Institute of Banking Personnel Selection
Name of Post: Clerk
IBPS Pre Exam Pattern 2015:-
This Part will be of Qualifying Nature.
Total 100 Marks & Consists of 100 Questions.
Total Time Duration for Screening Test is 1 Hour (60 Minutes).
| | | |
| --- | --- | --- |
| Subject | No. of Question | Marks |
| Reasoning | 35 | 35 |
| English Language | 30 | 30 |
| Quantitative Aptitude | 35 | 35 |
IBPS Main Exam Pattern 2015:-
Online Written exam consisting of 200 marks.
Total Time Duration of exam is 2 Hour.
The test shall be of objective type and in Hindi and English except for the Test of English Language.
| | | |
| --- | --- | --- |
| Subject | No. of Question | Marks |
| Reasoning | 40 | 40 |
| English Language | 40 | 40 |
| Quantitative Aptitude | 40 | 40 |
| General Awareness(with special reference to Banking) | 40 | 40 |
| Computer Awareness | 40 | 40 |
IBPS Clerk Exam Syllabus 2015:-
Reasoning : It would include questions of both verbal and non-verbal type. The test will include questions on analogies, similarities and differences, space visualization, problem solving, analysis, judgment, decision making, visual memory, discriminating observation, relationship concepts, verbal and figure classification, arithmetical number series, non-verbal series etc. The test will also include questions designed to test the candidates' abilities to deal with abstract ideas and symbols and their relationship, arithmetical computation and other analytical functions.
General Knowledge: Questions will be designed to test the ability of the candidate's general awareness of the environment around him and its application to society. Questions will also be designed to test knowledge of current events and of such matters of everyday observation and experience in their scientific aspects as may be expected of an educated person. The test will also include questions relating to India and its neighboring countries especially pertaining to Sports, History, Culture, Geography, Economic scene, General Polity including Indian Constitution and Scientific Research etc. These questions will be such that they do not require a special study of any discipline. This is topic is huge so applicants are advised to go through Newspaper daily and read good GK books and other notes.
English Language:- Mainly Focus on the topics like Synonyms, Antonyms, Sentence Error, Sentence correction, fill in the blanks, Comprehension & Cloze Test etc.
Quantitative Aptitude:- Questions will be asked from Simplification, Average, Percentage, Time & Work, Area, profit & Loss, Simple & Compound Interest, Time & Speed, Investment, HCF LCM, Problem On Ages , Bar Graph, Pictorial Graph, Pie Chart. Date Interpretation is the section which have to be focused.
Computer Awareness:- Basic of Computers, Computer Organization, Generations of computer, Input & Output Device, Shortcuts & Basic knowledge MS word, MS Excel, MS power point, Memory Orientation, Internet, LAN, WAN, Modem, Computer Abbreviations, Modern day Technology. Remember short cut Tricks of MS Word, MS Excel & Computer Abbreviations.
To View Banking Jobs click here
To View More Syllabus click here
For Official Website of IBPS: CLICK HERE