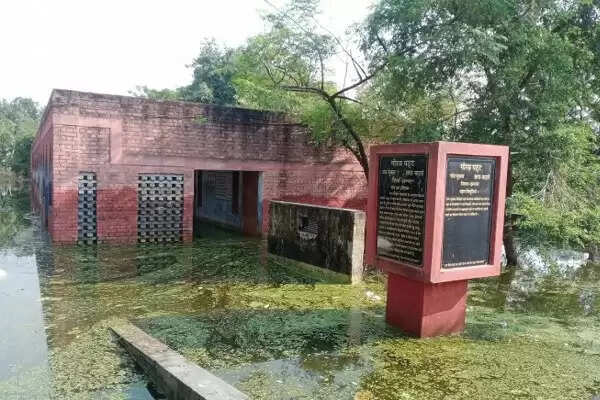 Employment News-The government schools of Luksar and Gangadwa villages of the sub-division are filled with water up to four feet. Classes are completely closed in the school for a month, but no arrangement has been made by the government and administration to drain the water. In such a situation, the studies of the students have been completely disrupted.
In both the villages government schools have become ponds due to waterlogging. Rain water has entered the rooms here.
Government Senior Secondary School in Luksar village has 263 boys and girls in which students from three villages study. Along with Luksar, the education of the children of Gangadwa and Zardakpur is getting affected. There are 40 children in the primary school of Gangdwa village. On the one hand, big claims are being made by the administration for water withdrawal, while on the other hand no arrangement has been made even after a month has passed. So far no electric motor or diesel engine has been used. In such a situation, all the bets being made for the drainage of water are coming out.
Four to five feet of water is filled in the school rooms of Luksar village. In such a situation, the school building is also being damaged. The wooden doors are deteriorating, the floors of the rooms have started sinking. Moisture has also reached the roofs. Computers and other electrical equipment kept in the school are also not safe. Furniture is submerged in water. Children's benches and chairs have not been removed from the water. If no solution is taken soon, furniture and electrical items worth lakhs of rupees will be damaged along with the building.
The water of Matan Chhara link drain is flowing inside the school building. Guardians Sandeep, Manjeet, Praveen and Lokesh say that so far no arrangement has been made to stop the water from the drain separately from draining the water. The school premises is very low from the level of the drain, due to which the drain water gets filled in the school during the rains. Due to waterlogging in the school during the rainy season, the students often have to return.
For the last one and a half years, education has been hit by Corona. Now, when the situation becomes normal from Corona, studies have started in schools, then the students of three villages have now been hit by rain water, which is causing a lot of damage to the education of the students. There is a lot of damage to the education of children. There is a demand of students and parents that along with making adequate arrangements for water drainage, classes should be started in schools so that their education is not disrupted.
A demand letter has been sent to the administration regarding the demand for drainage of water from the school premises. The village head and block officers and departmental officers have been apprised about the problem of water logging in the school premises. The students were initially sent to the Gangadwa village primary school building for classes but now there too is flooded. In such a situation, the classes of the students continue online. -Sangita Verma, Principal Lukesar
The school building has been inspected two days ago. The condition of waterlogging is critical and drainage is not possible as the fields around the school are also filled with water up to 5 feet. Right now the drain is also overflowing. The eyes of the administration are on the drainage and according to the circumstances, arrangements will also be made for the drainage. Vishal Kumar, Sub-Divisional Officer Badli
Share this story