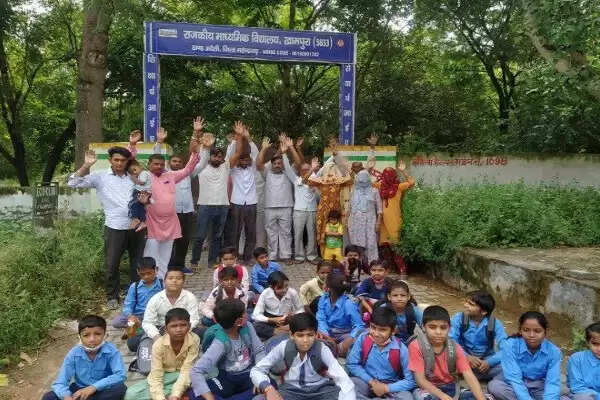 On Tuesday, the villagers protested in front of the school under the leadership of the outgoing sarpanch against the teachers of the Government Primary School of village Khampura for not providing regular education to the children. At the same time, the officials of the Education Department were also demanded to take cognizance in this matter and take appropriate action.
The protesting villagers also accused the school staff members of not coming to school on time. The outgoing sarpanch of Khampura, Sunita Devi told that a middle and primary school is running in a school campus in the village. But the staff of the primary school, instead of teaching the children, spends the whole day passing the time. At the same time, when the in-charge of the school is talked to about the cleanliness and education of the school, then he does not talk to them properly. This has created anger among the villagers. During this, the villagers have spoken to the Ateli BEO of the Education Department. He assured the villagers that action would be taken after considering their points. At the same time, the villagers said that if action is not taken on this matter, then the Deputy Commissioner of Rural Development will meet Narnaul in this matter. On this occasion Mahendra Singh, Satyapal Havaldar, Ajit, Atmaram, Surya Prakash, Inderjit, Satish, Hanuman, Geeta, Poonam, Kaushalya, Bir Singh, Kaushalya, Alok were present.
The villagers said that the staff of the primary school does not come on time. Apart from this, they are not teaching regularly to teach the students studying in the school. In such a situation, students are becoming weak in studies. The villagers had already closed the schools for several months due to Corona. Now the government has opened the schools, so the staff is not doing their work properly.
- version
The campus has a primary school and a middle school. But some people don't let them work. He comes to school on time every day. All the allegations leveled against him are false. There is only one cleaner in both the schools. He also serves middle school.
-Gajraj Singh, Incharge Government Primary School, Khampura.
Share this story