Higher Education Minister Dhan Singh said University should prepare new syllabus by November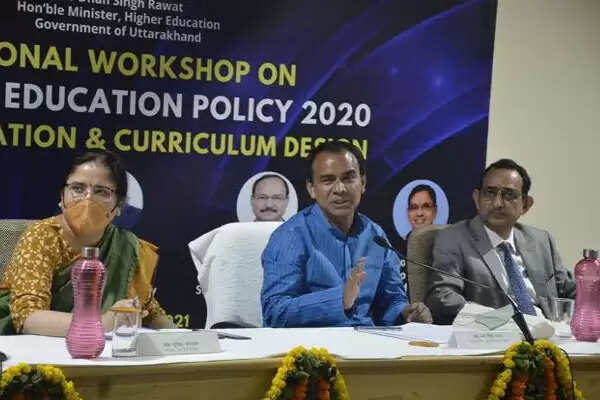 Employment News-There have been many seminars and webinars regarding the new National Education Policy. Now its roadmap has to be prepared. By coordinating the government universities, prepare the syllabus according to the new education policy by November. The state government has constituted a task force for curriculum development under the new education policy. The government is also cooperating fully in this work. Higher Education Minister Dr. Dhan Singh Rawat said these things at Doon University.
A two-day workshop on the implementation and framework of the National Education Policy-2020 started at Doon University on Monday. In which Higher Education Minister Dr. Rawat had arrived as the chief guest. After inaugurating the workshop, Higher Education Minister Dr. Rawat said that how various states have adopted the guidelines of the University Grants Commission (UGC), study it. See how the Choice Best Credit System (CBCS) will be effective. Under the new education policy, convert one-year, two-year, three-year courses into certificate, diploma and degree courses respectively. At the same time, expressing concern over the drop out in higher education, said that a solution to this problem will also have to be found.
In the workshop, the Vice Chancellor of Soban Singh Jeena University, Prof. NS Bhandari, Vice Chancellor of Uttarakhand Open University, Prof. OPS Negi, Vice Chancellor of Sridev Suman University and Veer Madho Singh Bhandari Technological University, Prof. PP Dhyani, Dr. MS Mandarwal, Registrar, Doon University, Prof. Kusum Arunachalam, Prof. HC Purohit, Prof. RP Mamgai, Prof. Harsh Doval and other academicians participated.
Online courses will be included
Chairman of Task Force constituted for the creation of new curriculum in Uttarakhand and Vice Chancellor of Kumaon University Prof. NK Joshi highlighted the framework of National Education Policy-2020. He said that the objective of the workshop is to prepare curriculum under the new education policy and implement it in Uttarakhand by the year 2022. Along with this, he informed about the key points of the new education policy, skill development, ease in choosing subjects, promotion of credibility etc. He said that online courses and the portal itself would also be included in the curriculum.
goal to reach from the root to the world
In the workshop, the Vice Chancellor of Doon University, Prof. Surekha Dangwal said that Doon University is preparing under the new education policy. The university is ready to make every effort to take it from the root to the world.
Four technical sessions on day one
On the first day of the workshop, in four technical sessions, Prof. Hare Krishna gave ideas on the implementation of the new education policy, curriculum design and research methodology. Dr. Dinesh Sharma made a presentation on employable higher education and digitization of higher education. Pro. Shekhar Joshi and Prof. Dinesh Chandra Goswami presented a roadmap for the necessary improvements in future courses.
Share this story