Unemployed teachers in Jalandhar told CM Channi claims to be false, told people - vote after seeing the truth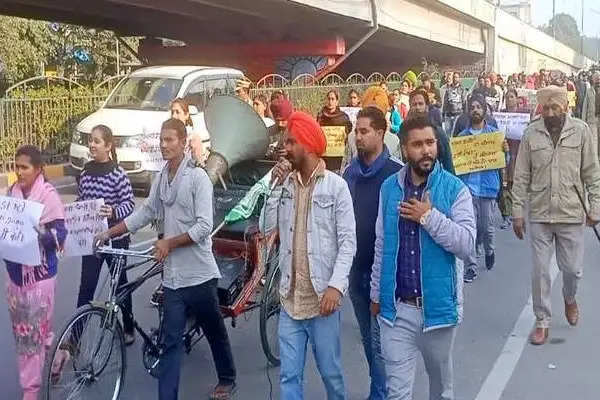 Employment News-Angry over not being recruited on vacant posts, unemployed teachers who have passed BEd TET have started a fury march in the light of Education Minister Pargat Singh on Monday afternoon. During this, they were shouting slogans on the entire route calling the claims of Education Minister Pargat Singh and Chief Minister Charanjit Singh Channi false. The teachers pasted the pictures of the Education Minister on their clothes and had made a cross mark on it, which was clearly expressing their displeasure.
The reason for the protest of the teachers was that despite protesting for two months, their demands were not being addressed. Because of this, they have to come out on the streets every day to demand their rights. For this reason, the teachers appealed to the people passing through the road to vote only after knowing the truth of the hollow claims of Channi Sarkar and the Education Minister. Unemployed BEd TET pass teachers have protested outside Education Minister Pargat Singh's kothi many times in the past. Minister Pargat Singh has also met him and assured that teachers will be recruited. However, till now no notification has been issued by the government regarding this. For this reason, the anger of unemployed teachers is increasing.
Unemployed teachers are protesting in Jalandhar for two months
Let us inform that the union of unemployed teachers of BEd TET pass has been holding a permanent sit-in from October 28 under the water tank of the old bus stand. Manish Kumar Fazilka and Jaswant Ghubaya are sitting on top of the tank since that day. His health is deteriorating due to the cold, but the government and the education minister are just giving up on assurances. For this reason, the protesters are now marching against the Education Minister.
Share this story