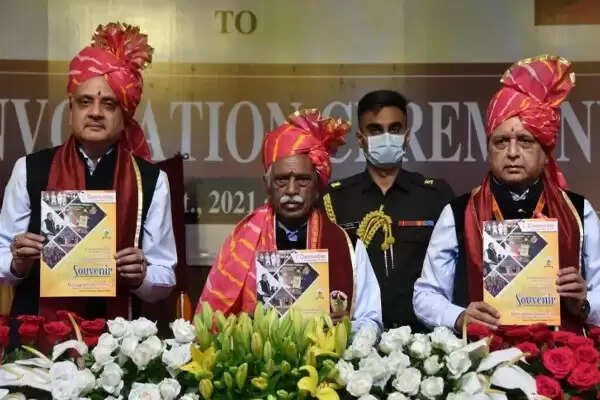 Employment News-In today's changing environment, educationists should give such education to the students, in which two third part of practical and one third of theory so that they can become job givers instead of job seekers after completing their education. This theme has been emphasized in the new education policy. The above things were said by Haryana Governor Bandaru Dattatreya while addressing the first convocation held at Gurugram University, Sector-51 on Thursday as the chief guest.
In the convocation ceremony, 270 students of the university were conferred degrees by the Governor, which included students of the year-2018 and year-2019 batches of 16 departments. Along with this, gold medals were also awarded to 17 students in the function. In his address, the Governor said that education is the biggest medium to remove poverty and unemployment in the country. In this, such education should be given to the youth which will help them to start their own business or employment.
skill development important
The Governor said that in view of today's situation, it is important to develop the skills of the youth. Keeping this in mind, Prime Minister Narendra Modi started programs called Make in India and Skill India. He called upon the youth to adopt Make in India through Skill India and become entrepreneurs. Establishing a direct dialogue with the youth, he said that you work with your new innovative ideas, only then India will move forward on the path of progress.
Country's first skill university in Haryana
If India has to compete with other countries in the world, then it is necessary to emphasize on increasing vocational education and skills. Keeping this in mind, the country's first Skill University has been established in Haryana. He said that for the first time in the new education policy, the Government of India has thought of providing 7th and 8th grade education to the youth like other countries. Bandaru Dattatreya said that the students who pass with these grades will be able to get direct jobs abroad, otherwise earlier our youth had to pass the test to get jobs there.
Must have an incubation center
He said that every university should have an incubation center, which would help the youth to realize their entrepreneurial ideas. The Governor also said that every university should start new diploma courses based on the local needs of its area. By enrolling in these courses, local youth will be able to start work by honing their skills, so that they can mobilize their employment opportunities.
Huge potential in agriculture sector
The Governor said that there is a lot of potential for creating employment opportunities in the agriculture sector. Similarly, there is scope for employment opportunities in the health sector. He said that during the Kovid epidemic, we saw that there were ventilators in the hospitals but there were no ones to run them. If the youth are given this training then it will be useful for them. Along with this, the Governor stressed on imparting moral education and said that the youth should believe in themselves in life.
Emphasis on character building
Referring to the English proverb, he said that if there is a loss of money, then understand that nothing is lost, if there is loss of health, there is some loss but if you lose character, you lose everything, so educational institutions focus on character building. Give strength Referring to the COVID pandemic period, he said that even during that time education did not stop and a new practice of online education started through technology. The Governor appealed to all the people of the state that they must get the vaccine to protect against corona and win over Kovid.
University's grand campus being built in Sector-85
The Vice Chancellor of the University, Dr. Markandey Ahuja said that Gurugram University has been established for three years and in this short span, 28 different types of courses have been started here. He said that at present this university is being run on a temporary basis in Sector-51 and the university's own building is being constructed in Sector-85. He also said that there are plans to start classes of 8 courses in the new campus in the next few days. He told that if we take a satellite photo of the under-construction building of the university, it will appear in the shape of Lord Ganesha.
On this occasion, Gurugram MLA Sudhir Singla, Pataudi MLA Satyaprakash Jarawata, HERERA Gurugram Chairman Dr. KK Khandelwal, JC Bose University Faridabad Vice Chancellor Dr. Dinesh Agarwal, Sri Vishwakarma Skill University Vice Chancellor Raj Nehru, IILM University Vice Chancellor Sujata Sahi, Former Vice Chancellor of Central University, Mahendragarh, Dr. RC Kuhad, Dr. Anju, members of the Executive Council and Academic Council of the University were also present.
Share this story