The education minister house surrounded in Jalandhar for not getting the benefit of freeship card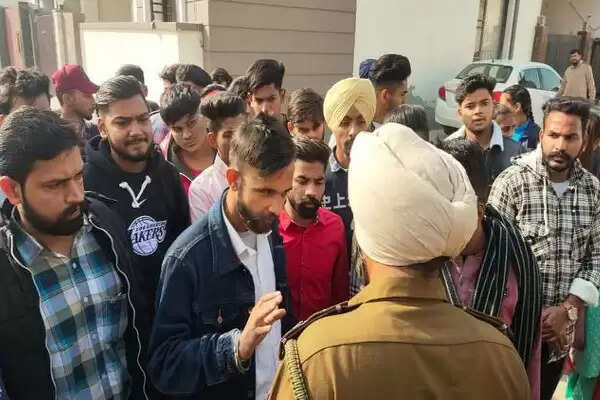 Employment News-Scheduled Caste students protested outside Education Minister Pargat Singh's Kothi regarding the issue of Post Matric Scholarship. Their demand is that they will not rise until there is a meeting or action on their demands. He says that he has met Education Minister Pargat Singh twice before. In both the meetings, he had assured that he would soon take action in this regard so that the students do not suffer. But on the contrary, students started getting more and more harassed by the colleges. He said that degrees of more than 60 thousand students are still pending in the whole of Punjab.
Navdeep Singh, leader of Vidyarthi Sangharsh Morcha, says that if the government cannot provide any kind of benefit to the students, then they have no right to play with the feelings of the students by giving such assurances or by harassing them. If the students had money. So he would have already given to the colleges and there would have been no need for such schemes. The college management is taking advantage of the lack of money with the students and harassing them mentally by putting severe pressure on them.

Freeship cards are being made by the government to get the benefit of post matric scholarship. Which many students have also got built. Despite this, the government's own university is not ready to accept his own orders. Which means that despite the ban on making freeship cards, money is being demanded from the students. Whereas the order of the government was that the college and university cannot demand fees from the students on whose behalf the freeship cards have been made.
Deepak Bali says that he had reached the Education Minister demanding his rights. But he is not at his home. The minister should have done the duty of an officer at least in his absence. Now until a decision is taken regarding his demands, he will not get up from this dharna site and will announce his next struggle soon after calling a meeting and starting from here.
Share this story