BRABU distance education director claims, the directorate will become the center of educational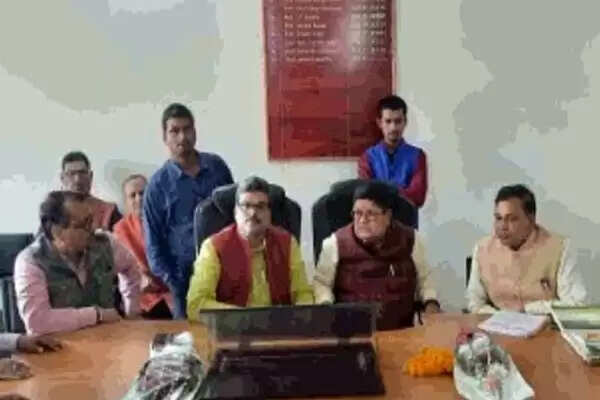 Employment News-The new director of the Directorate of Distance Education of BRA Bihar University, Dr. Omprakash Rai, Principal of LS College, took charge on Friday. He said that the examinations of 1600 students enrolled in MPhil course in 2014-15 and 2015-16 are pending. Every effort will be made to conduct the examination in coordination with Raj Bhavan, Government and University regarding the conduct of the examination. Due to non-receipt of regulation in BBA, BCA and Library Science after 2020, the process of postponed enrollment will be implemented with new regulation. Along with this, initiative will be taken to release the result of B.Ed 2016-18 session first year examination soon.
He said that seminars, workshops and seminars would be organized continuously in the Directorate of Distance Education for the educational up-gradation of the students. The facility of placement cell will be available for the students of technical education through distance education. For this, national and international job companies will be contacted. Administrative Officer cum Program Officer Dr. Lalan Kumar said that there has been a ray of hope with the arrival of the new Director. Efforts will be made to remove the deficiencies in the curriculum and regulation in distance education. Intellectuals continued to arrive throughout the day to congratulate Dr. Rai on taking office. On the occasion, former Urban Development Minister Suresh Kumar Sharma, Dr. TK Dey, Dr. Gajendra Kumar, OSD Dr. Pankaj Kumar, Dr. Shailendra Kumar, Dr. Sunil Mishra, Dr. Lalit Kishore, Dr. Birju Kumar, Dr. Raghav Kumar , Dr. Afroz, Dr. Kumar Balwant, Dr. Deepak Kumar, Dr. Gunjan, Dr. Naveen Kumar, Dr. Mayank, Dr. Neeraj, Dr. Imtiaz, Dr. Vipin Kumar etc. were present.
X-ray machine damaged in Sadar Hospital, patient upset
Muzaffarpur: Patients who came for examination at Sadar Hospital on Thursday were upset due to malfunctioning of X-ray machine. Patients told that they came for X-ray from 9 o'clock in the morning, but their number did not come due to machine failure. Benazir, who came from Kolhua, told that her sister is admitted in the women's ward of the hospital. She has been sitting here since 9 in the morning for X-rays. On arrival in the morning it was told that the machine was faulty. After that it was afternoon, but my number has not come. Mamta Devi of Paharpur told that she has been circling for two days to get X-ray done. Even on Wednesday the X-ray could not be done and the next day also it was morning to afternoon, but my turn did not come.
Share this story