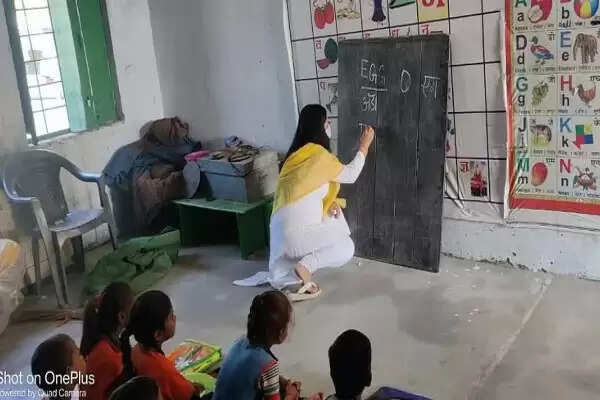 Employment News-Deputy Education Officer Geetika Joshi did a surprise inspection of various schools in the block. During this the Government Primary School, Brahmanagar was closed. The Deputy Education Officer did not call the children and started teaching himself. When the teachers came later, they were surprised.
On Monday, the Deputy Education Officer inspected many schools of Kashipur development block. She reached the Government Primary School in Brahmanagar at around 7.40 am. 92 students are registered in the school and four teachers are working but the school was found to be closed. He called the students and food mothers to the school through the people around and started studying. During this, one teacher reached the school at around 8:05 am and two other teachers at 8:40 am. While one teacher Kamlesh remained absent. He had not given any notice of leave to the school.
The Deputy Education Officer also inspected the Government Primary School Gulzarpur. Out of the two teachers working here, the headmaster was on casual leave. At the same time, out of 53 students, 40 students were present. After this, he inspected the Government Primary School located in Jagatpur in which three teachers are working and all three were found present. Whereas out of 72 students registered, only 23 students were present.
After this, inspected the Government Primary School located at village Rajpura Rani at 12:35. Seven teachers including the headmaster are posted in this school but one headmaster Brahmpal Singh was found present. Teachers Ravi Kumar, Nripendra Kumar, Meenu Goyal, Shashipal Singh, Ranjana Chauhan and Dharmendra Kumar were found absent.
Salary will be deducted for late arrival and early departure: Deputy Education Officer
Kashipur. The Deputy Education Officer said that during the inspection many defects were found in various schools. Instructions have been given to rectify them within a week. He spoke of departmental action against absent teachers. At the same time, he told that all the teachers were directed that the teachers of those schools, where classes are being conducted in one shift, would remain in the school full time. After 11 o'clock the teacher will complete the work in the diary. Students will check the copies. Said that one day's salary will be deducted for the teachers who come to school late and leave the school early.
Share this story