Student sent answer book from Madhya Pradesh, disappeared in Chhattisgarh, this is the case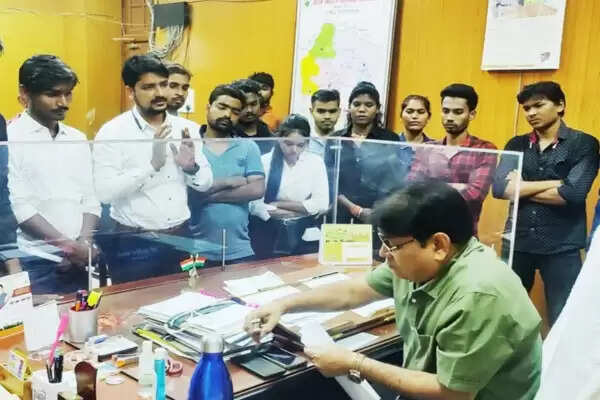 Employment News-Ragini Ojha, a student of MA fourth semester geography studying in DP Vipra PG College, has made serious allegations against Atal Bihari Vajpayee University of missing the answer sheet through the student union.
On Friday, the student leaders also gheraoed the registrar. It is clearly said that the student posted the answer sheet from her residence in Singrauli district of Madhya Pradesh through speed post. Still, the girl student was declared absent in the examination. Both the college and the university do not have answer sheets. Where did it disappear in Chhattisgarh after all?
Registrar Prof. Sudhir Sharma, in view of the seriousness of the matter, summoned the controller of examination Dr. Praveen Pandey and the examination in-charge Pradeep Singh. Officials clearly said that there is no question of missing the answer sheet. The allegations made by the student union are completely false and baseless. The student may have sent the answer sheet to the college, whose acknowledgment is with her. But, there was a delay in reaching the university. Earlier the answer sheets had been sent for evaluation.
In the second phase, the answer sheets sent for evaluation, such students have been declared absent. After the complaint of the concerned student, the answer sheet has been ordered from the evaluator. Soon the exam result will be declared. In the matter, now Registrar Prof. Sharma has assured the student union officials to settle the matter within 48 hours.
Such negligence has already happened in the past
This is not the first case of missing the answer sheet. Even before this, the students of Government JP Verma College had accused the examination department. Later the answer sheet was found in the cupboard of the college. Similar cases have come to the fore from many other colleges. The examination department has to bear the brunt of the mistakes of the colleges. However, this time the student has given complete proof from the acknowledgment of the speed post.
to be submitted by 23rd September
The examination department had ordered the colleges to submit the answer sheets to the university by September 23. In this case, the college administration claims that they have submitted the student's answer sheet within the stipulated time. In such a situation, if the copy is not found with the evaluator, then there will be a big problem.
warning of violent agitation
Students union secretary Manish Mishra said that if the matter is not resolved within 48 hours, then there will be a fierce agitation. On this occasion Manoj Mishra, Vikas Vishwakarma, Akash Verma, Akhilesh Sahu and other officials were present.
Share this story