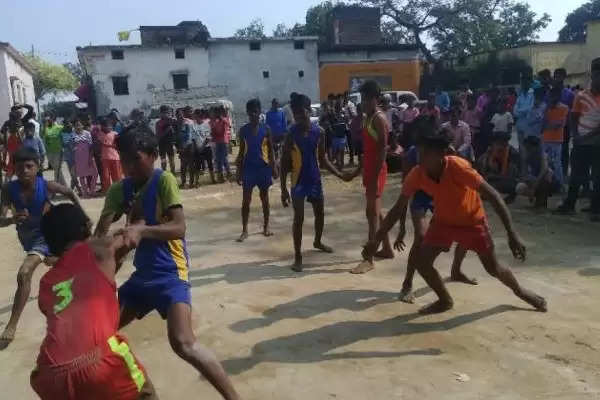 Employment News-Ghughli block level two-day Basic Children's Sports Competition started on Monday at Kridangan, East Secondary School, Barigaon. The competition was inaugurated jointly by Block Education Officer Vinaysheel Mishra, retired Principal Anand Krishna Tripathi and Balwant Singh. Block Education Officer said that sports is an important part of education. The game should be played with sportsmanship.
150 primary and junior high school students of Ghughli block participated under the supervision of Rajesh Kumar Upadhyay, headmaster of former secondary school Barigaon and Virendra Yadav regional exercise teacher. Teachers like Ram Niwas Singh, Sanjay Mani Tripathi Upendra Pandey, Arvind Gupta, Ghanshyam Yadav, Kanhaiya Lal Prasad, Parmanand Vishwakarma, Rizwan Ullah Khan, Dilip Kumar Patel, Suraj Upadhyay, Neelam Gupta etc. participated. Belwa Tikar, Barigaon and Dhenkahi dominated:
In primary level 50 meter race, Kumari Anshika Primary School, Barigaon got first, Rohini Pandey Primary School, Pyas second, Ankita Gupta Barwakhurd got third place. In the boys category, Akshay Kumar Primary School, Ghughli got first, Shivam Sahni Belwatikar second, Shivam Singh Primary School, Dhekhi got third position. Siswa Bazar team won the opening match
Maharajganj: The Brahmalin Mahant Avadyanath Cricket Competition started on Monday. The first match was played between Siswa and Ghughli. In which Ghughli won the toss and decided to bat. In which the team of Siswa Bazar scored 94 runs in the stipulated 10 overs and won the match by losing eight wickets. The inauguration was done by the chief guest Shahrukh Khan. Shahrukh, who was the special guest Ghiyasuddin Ansari, Vikas Jaiswal, Rammilan Verma, started the competition by cutting the ribbon of the competition. Aamir Khan, Suhail Khan, Vipul Tiwari, Suraj, Afsar Ali, Alok Verma etc. were present. Sheru and Suhail and Shailendra played the role of commentators in the competition. Pipra won in Kabaddi
Maharajganj: Basic child sports competition was organized on Monday in Belbhariyan of Siswa block. In the competition, Sunny first and Rehan second place in 100 meter race in boys category, Sunny first and Rehan second in 200 meter race, Savitri first and Kajal second in girls' 100 meter race, Savitri first and Amisha second in 200 meter race. Received. In Kabaddi, Primary School Pipra Bazar stood first, Primary School Sugauli stood second in Boys category. Pipra Bazar secured first position in Kho-Kho. The winning team and the winners were awarded with prizes. ARP Bechu Prasad Madheshia, Jitendra Pandey, Baijnath Prajapati, Umesh Kumar Singh, Brijnath Yadav, Sushil Kumar Kanojia, Naveen Kumar Shukla, Devendra Kumar etc. were present.
Share this story