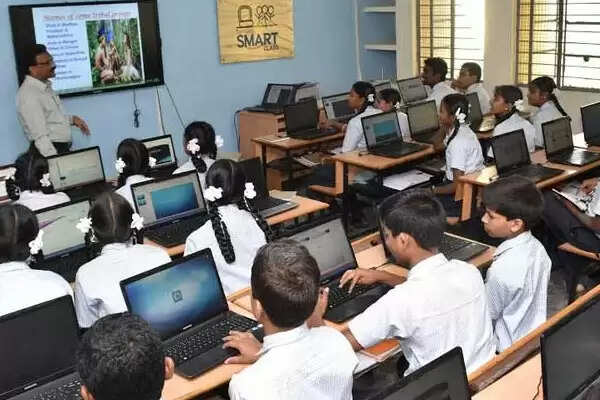 Employment News- With the efforts of State Teacher Award-winning headmaster Ravi Kumar Singh, smart class was started on Thursday in Bambia, a primary school operating in the bandit-affected area. Children of bandit affected area will study in smart class. It was inaugurated by MLA Anand Shukla and BSA Rajiv Ranjan Mishra.
In primary school Bambia, work will be done to connect the students with modern education. Now the students of this school will be able to study their subjects on the big screen of the projector from country to abroad without bringing any bags on the lines of America and Finland.
Before the launch of smart class, the MLA gave a check of Rs 51 thousand to the headmaster Ravi Kumar Singh, who received the State Teacher Award. The MLA said that this school has an important place in awakening the light of education in the tribal area. BSA said that other school teachers of the district should take inspiration from this. The teachers in the district should not lag behind in fulfilling their responsibilities.
This smart class made in this way
Chitrakoot. This smart class of primary school Bambia of Manikpur area has been developed by the headmaster Ravi Kumar Singh with his personal funds. In which projector and digital board have been provided by NITI Aayog. In the smart class room, the classroom has been developed in a hi-tech manner by the headmaster, in which the work of PVC paneling on all the walls and false ceiling on the ceiling has been done. Smart class based on the education system of Finland and USA has been established in this school. Morning circle time, morning group activity is organized daily for the students. The headmaster Ravi Kumar Singh was appointed in the year 2016. At this time the school was in a dilapidated condition. First of all, the headmaster gave a new attractive look to the school building by getting the major repair work done with his own money. Presently 87 students are registered in the school.
Share this story