Preparations to save children from Corona epidemic, Education Department sent 3902 oximeters to Yamunanagar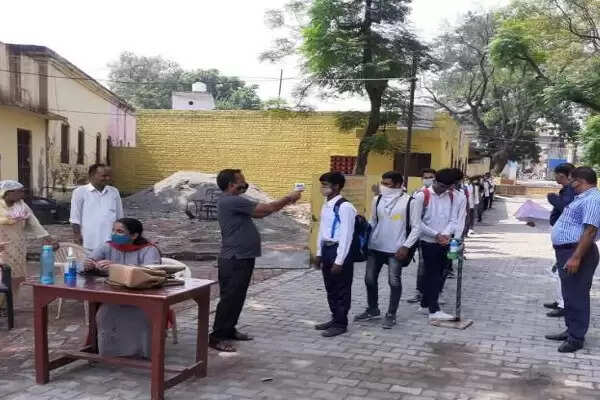 Employment News-The possible third wave of the corona epidemic is said to be harmful to children. However, at this time the cases of corona are negligible in the district. Nevertheless, the Education Department on its part does not want to take any carelessness regarding the health of the children studying in government schools. Earlier, funds were given to buy thermal scanners to check the body temperature of children in all government schools. Now 3902 oximeters have been given by the department in the office of the District Elementary Education Officer. These oximeters will be provided in every class for the children studying in class I to VIII.
40 children will have two oximeters
At present, the department has sent 3902 oximeters to the DEEO office. Whereas during the second wave of Corona, similar oximeters were given in schools. Now after the arrival of the new consignment, there will be two oximeters per 40 students in the schools. Soon these will be sent to schools based on the number of students from the office. The department has sent about 64 thousand oximeters to all the schools of the state.
Will be beneficial in immediate treatment
If the health of the student is detected from the oximeter, medical facilities will be available soon. The teachers and parents will be satisfied with the examination of the readings that the student is safe from the corona epidemic. Everyday students will be checked with oximeter in schools. So that all the students will be able to do their studies safely in the corona epidemic. The pulse oximeter measures the heart rate and the amount of oxygen in the blood.

Reading 95 to 100 percent normal
Normal pulse oximeter readings range from 95 to 100 percent. If someone's oxygen level is 93 or 94 percent, then seek medical advice as soon as possible. If your oxygen level is 92 percent or less, seek emergency medical attention.
Will be sent to schools soon: Pirthi Saini
Deputy District Elementary Education Officer Pirthi Saini said that the department has sent 3902 oximeters for schools. Soon these will be sent to schools on the basis of student numbers.
Share this story