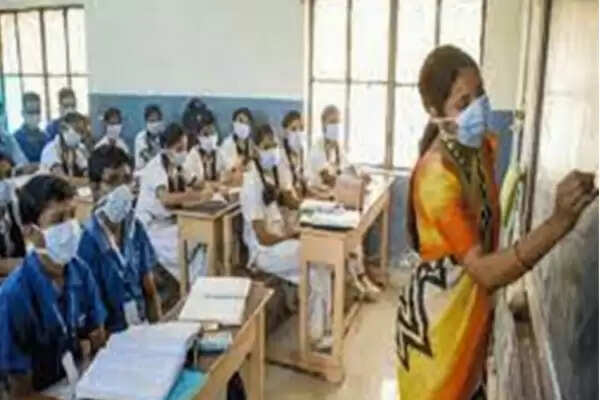 Employment News-It is education which decides the future of any state. The only condition is that for this basic facilities should be available in schools and the quality of education should be maintained. There are many such schemes of the government for the new year, which will work towards this. It is expected that all the problems will be solved gradually and government schools will come on par with private schools at various levels. Students and their parents will get full benefit of this.
The special thing is that in the last two years, many parents got their children out of private schools and got them enrolled in government schools, due to the crisis in the country and the economic problems caused by it, expensive fees of private schools, etc. It may be known that in the session 2021-22, one crore 38 lakh students have taken admission in government and private schools of the state. In this, 65 lakh children have taken admission in government schools from class I to VIII, while 35 lakh have taken admission in private. At the same time, 25 lakh students took admission in government and 11 lakh in private in ninth to twelfth. Now the government is taking advantage of this and trying to bring back the old golden days of government schools. However, maintaining the quality of education in government schools is a big challenge.
Under the CM Rise scheme, 350 schools will become fully equipped
350 government schools of the state have been selected under the CM Rise scheme. The appointment of teachers in these schools is being done on the basis of examination. Along with these schools, nine thousand 200 government schools of the state will be made fully equipped under the CM Rise scheme.
This will be the arrangement in CM Rise Schools
There will be arrangement for transport and hostel.
- There will be arrangement of sports ground.
- There will be arrangement for dining room.
Teachers will be available for each class.
- Smart classes will be available.
There will be arrangement for drinking water, furniture and electricity.
Play group classes started in 1100 schools
Play group classes are being conducted in 1100 government schools of the state. In this, classes of Nursery, KG-1 and KG-2 are being run.
it will happen this year
Board exam will be held in fifth and eighth
The School Education Department will start the fifth-eighth board examinations again after 13 years. The board exam will start from this session 2021-22. The board examinations of class V-VIII students in the state were stopped in 2007-08. After the implementation of the Right to Free and Compulsory Education Act (RTE), the annual evaluation of students from class I to VIII was stopped and their annual evaluation was started. Due to this weak students also started passing. After getting the permission of the Center, the MP government amended the RTE in 2019. Under this, the students of class 5th and 8th will have an annual examination on the board pattern. Also, the students who fail will not be promoted to the next class.
Changes in the exam pattern in this session
Due to the Kovid period, the Board of Secondary Education (Mashim) has changed the exam pattern. There will be 40 percent objective type questions in the question paper of 10th and 12th board exams. Also 40 percent theory and 20 percent reasoning questions will be asked.
This new change in tenth and twelfth board exam
In class 10th and 12th, 80 marks will be for theory and 20 marks for practical/project.
In class XII, 70 marks will be for theory and 30 marks for practical in practical subjects.
The theory question paper of all subjects of class X and XII will have 40 percent objective questions, 40 percent subject based questions and 20 percent analytical questions.
No change has been made in the old Professional and D.L.Ed.
In class 10th and 12th, under the subject of Indian music, in the session 2021-22, two separate question papers (vocal instrument, tabla pakhawaj) will be made in 9th and 11th.
Session 2021-22
Total Admission (1st to 12th) - one crore 38 lakhs
Government Schools (1st to 8th) - 65 lakhs
Private Schools (1st to 8th) - 35 lakhs
Government Schools (IX to XII) – 25 lakhs
Private Schools (IX to XII) - 11 lakhs
School education budget - 24 thousand crores
Number of government schools in the state
Primary School- 83,890
Secondary School-30,341
High School - 4,740
Higher Secondary School-3815
Number of students - 1 crore 38 lakh
Number of teachers – 3.50 lakh
Bhopal District
Primary and Secondary School - 1155
High and Higher Secondary School-133
To meet these challenges
- vacancies of 70 thousand teachers
-18 thousand schools have only one teacher
-44 thousand schools do not have electricity connection
There is no provision of drinking water in 2 thousand schools
- No toilets in 1208 schools
- 1900 school does not have its own building
-6000 schools operated in one or two rooms
Share this story