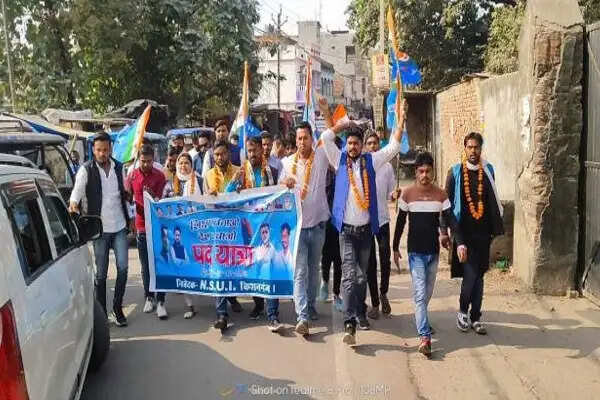 Employment News-On Monday, the members of NSUI protested against the poor policy of the education system by taking out the Save Education-Save Country Padyatra. So that the state and central government should make every effort to provide quality education to the students. These things were said by NSUI State President Chunnu Singh while taking out a padyatra in Subhashpally.
He said that a padyatra has been taken out against the deteriorating education system in the country and the dual policy of the state government. Students are the future of the country. No one has the right to play with their future. Now the students have become self aware. Students need quality education in school and college. So that they can take higher education and make a better career for themselves. Sessions are pending in most of the universities of the state. There are allegations of corruption against many Vice Chancellors. The result of the arbitrariness of the state government is that the subjects of geography, home science, music, sociology and commerce have been removed from the Rwari college without any official announcement. Because of this, students are facing difficult problems.
In view of the future of the students, if the decision is not taken by the state government in the interest of the students, then the NSUI members will be forced to organize a statewide agitation. In this padyatra, State General Secretary of NSUI Ali R.A. Siddiqui, State Secretary Aman R.A., Vicky Thakur, District President Ishtiaq Afeen (Bittu), Shahjahan Khatoon, Tausif Anr, Shambhu Yadav, Am•Ad Ali, Raja Babu, Nadeem Several members including Shehzada, Aftab Rahi and Nitish Kumar Sinha were present.
Share this story