Launch After the Chief Minister, now the Higher Education Minister also inaugurated the Adarsh ​​College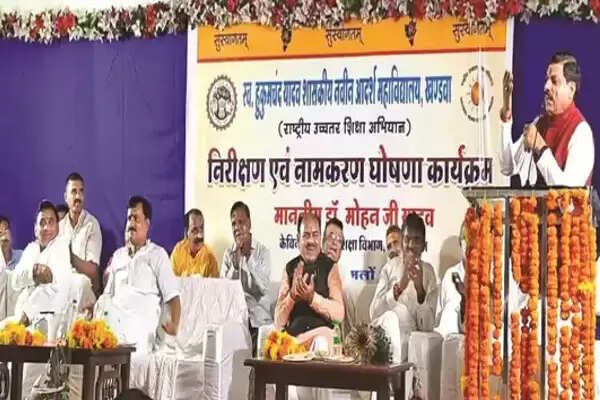 On Monday, the Higher Education Minister re-launched the excellent college near Junapani. Earlier on August 28, the Chief Minister, who came to Khandwa, had also officially inaugurated the college. Even after the launch twice, students will get admission in the college only in the upcoming session 2022-23. Because the higher education department has not yet been able to arrange the necessary staff and resources of the college. Approach road from Khandwa-Harsud highway, which includes basic facilities in the college, boundary work is still incomplete.
On Monday, Minister Dr. Yadav named the college after former MLA Hukumchand Yadav. Which was inaugurated by the Higher Education Minister by cutting the lace. In relation to the development journey of the establishment of Adarsh ​​Mahavidyalaya, he told that the e-bhoomi pujan was done by Prime Minister Narendra Modi, while it was inaugurated by Chief Minister Shivraj Singh Chouhan.
In the program MLA Narayan Patel, Devendra Verma, BJP State General Secretary Bhagwandas Sabnani, BJP District President Sevadas Patel, Mangal Yadav, Amar Yadav, Arun Singh Munna, Rajesh Tiwari, Sunil Jain, SN College Principal Dr. Mukesh Jain, Dr. Indu Bala Singh, Pro. PK Patil, Dr. Manisha Singh, Dr. Vivek Keshare, Dr. MKD Aggarwal, Dr. Rekha Gunjan and other staff were present.
Education leads to physical and mental development
A workshop was organized by Girls College on the topic of New National Education Policy-2020 in Gaurikunj Auditorium. The Chief Guest, Higher Education Minister Dr. Mohan Yadav said that the physical and mental development of man takes place only through education. I will take special initiative to expand higher education in the district.
Share this story