Now teachers will not have confusion in holidays, department has released calendar for the whole year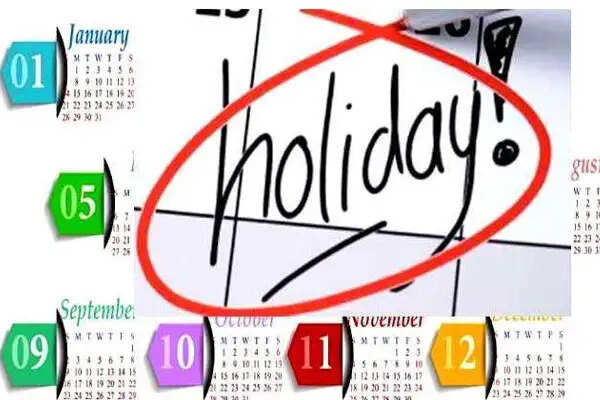 Employment News-There is often confusion in government schools across the state regarding government, reserved and half-day holidays. But now this will not happen, because the calendar of holidays for 2022 has been issued by the Education Department. Not only this, the principal and head of the schools will have to update the report of the annual function of their respective school, including two reserved and four half-day holidays, and send it to the head office by January 15.
Because after that there will be no change in the holidays in any way. DPI Secondary has instructed all the District Education Officers, Elementary and Secondary to complete this process immediately, so that they update the information related to the calendar keeping in mind the important events of their respective districts. So that after choosing from the school head government list, get approval of the dates in advance. In middle schools, only the leave taken by the school head will be done.
It should be noted that in the earlier years, there was often confusion regarding the holidays till the last days and everyone's decision was kept on the government's decision. In 2020, due to the declaration of holiday on the last day in view of Guru Parv, the examination of NTSE, PSTSE was postponed. Due to which teachers and students on duty in many schools had reached to take the examination. He had to face trouble due to not being able to trace the message issued late in the evening a day earlier.
Due to non-availability of this in the hands of the District Education Officers, they too could not give any kind of message to the school heads on time. Because they themselves keep waiting for the orders of the government and the orders of the deputy commissioners. So that the orders received from their side can be conveyed to the school heads and students as soon as possible.
calendar holidays
Nagar Kirtan of Prakash Parv of Shri Guru Gobind Singh Maharaj
Nagar Kirtan of Prakash Parv of Shri Guru Ravidas Maharaj
- Mahashivratri procession
-Holi
- Shri Ram Navami procession
- Shri Mahavir Jayanti procession,
- Baisakhi, Dr. BR Ambedkar Birthday
- Martyrdom Day of Shri Guru Arjan Dev Maharaj
- Shri Krishna Janmashtami
- good Friday
- Eid-ul-Fitr, the birth anniversary of Lord Parshuram
Birthday of Shri Guru Nabha Das Ji
- Kabir Jayanti,
- Eid ul Juha (Bakrid)
- Independence day
- Maharaja Agrasen Jayanti
- Gandhi Jayanti
- Dussehra
- Festival of Lights of Lord Valmiki Maharaj
- Diwali
Vishwakarma Day
- Prakash Parv of Guru Nanak Dev Maharaj
- Martyrdom Day of Guru Tegh Bahadur Sahib
- Christmas
- Guru Parv Shri Guru Gobind Singh Ji
Share this story