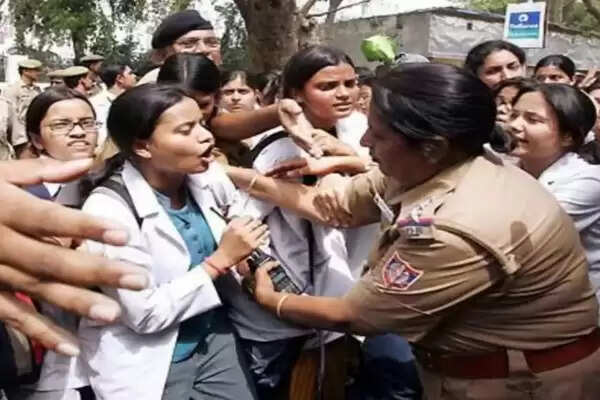 Employment News-The ongoing tussle between the MBBS first year students and the management in Saraswati Medical College is not taking its name to end. On Friday, the college management canceled the suspension of the students in the ragging case and asked for disciplinary action in the case of misbehavior with the professor. This made the students furious again. There was a ruckus calling the action wrong. Seeing the matter increasing, the police pacified the matter on the information of the management. At the same time, asked the management to take a decision in the interest of the students regularly. After this all the students went back to the hostel.

On December 20, student Uttar Adak had complained of abuse against Vicky Jha, Subodhraj, Rahul, Saurabh Prakash and Shivam Kumar, the first year students of the 2019 batch MBBS of Saraswati Medical College. At the same time, the college's Prof. The audio of abusing Bayazuddin went viral. On information, the management constituted an eight-member investigation team under the leadership of Dr. SK Singh, who was involved in the anti-ragging team of the college. The anti-ragging team submitted the report to the college management on December 21. According to the report, students Vicky Jha and Saurabh Prakash were suspended from the college after being found guilty in the incident. Students Subodhraj, Rahul and Shivam Kumar were let off with a warning.
On Friday, the college management asked Vicky Jha to vacate the hostel. Due to this fellow students again became furious and started creating ruckus. Management informed the police. Sohramau SO Akhilesh Tiwari arrived with the force and asked the students not to do such a thing again. At the same time, the college management was also asked to take decisions in the interest of the students.
Director Saurabh Kanwar said that student Uttar Adak has made a written agreement. Both the students have been given relief from the action of Ragging Act. The college professor has also asked the students to forgive. The suspension of the student will be terminated as soon as the professor's written letter is received.
Share this story