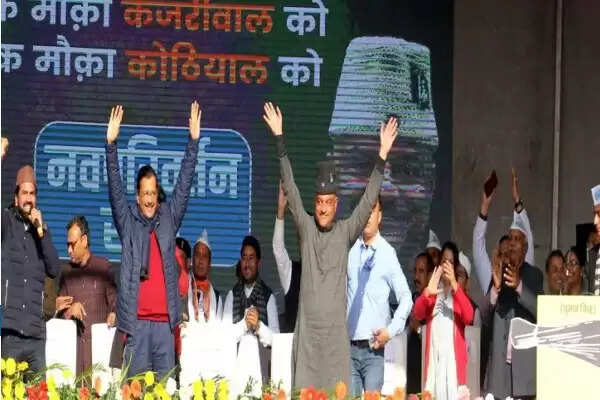 Employment News-Delhi Chief Minister and Aam Aadmi Party convener Arvind Kejriwal won the hearts of the youth by promising education and employment. The youth are most affected by the changed education system in Delhi. They also want to see the picture of government schools in Uttarakhand changing.

The youth believe that if the education system is strengthened, then the future will be transformed automatically. That is why here too the youth has faith in Kejriwal, who promised to change the education system. On the other hand, women are happy with Kejriwal's promise to provide electricity free.
Kejiwal's work is good so vote is sure
People are now upset with the promises made by BJP-Congress. No leader talks about giving good education. So now people should be aware. The way Kejriwal has changed the education system in Delhi is in front of us. He has shown his work.
- Kshitij Farasi, Ajabpur
Kejriwal told the vision in a short speech
Kejriwal conveyed the complete vision in his short speech. He made the same promises to the people of Uttarakhand which he would fulfill. His honesty was clearly visible in his speech. Till now we had only two options, but now it is not so. The third option is also before the people of the state. We have always been giving opportunity to BJP-Congress, but whether it is about education or providing facilities to the common man. Both the parties did not live up to the expectations of the people. I think Uttarakhand can be built by supporting Kejriwal this time.

Harjinder Singh, Mussoorie
Hope to change the picture of government schools
Delhi is the biggest example before us. Aam Aadmi Party has done a great job here. I hope to change the picture of government schools in Uttarakhand like Delhi. Have seen BJP and Congress. Both these parties have been limited only to promises. I think for the first time finding a good option. If we want to see Uttarakhand changing, then we need an educated leader like Kejriwal.
- Wasim Alam, Haridwar
Women happy with the announcement of free electricity
If free electricity is available, then surely this will be a big relief for the people of Uttarakhand. Kejriwal has a plan for every section. Their focus is on meeting the basic needs of the people. Who is thinking about every section of the society. Why shouldn't he be given a chance? The most important thing is that they are earning the trust of the people by their work. Big parties like BJP-Congress, sitting in power alternately for so many years, could not even provide basic facilities to the people of such a small state. As Kejriwal has changed the picture of Delhi, he will also change Uttarakhand.
- Meenu Rao, Turner Road, Dharampur
Kejriwal the first leader to talk on the basic problems of the state
The leaders here shy away from talking on issues like education, health, migration. Because they know that they have not done any work on these issues. If the level of education improves, the future of our children will also improve. If there is good education in the state itself, then the youth will not have to go outside. If good education, health and employment are available in the state itself, then migration will stop automatically.
- Sonia Panwar Beniwal
Not only speech, work is also commendable
Till date I have supported BJP-Congress, but have seen the work of both the parties. Till now there was no better third option. So it was a necessity. But now it is not compulsory. The announcement of giving one thousand rupees for women is very good. Till now Kejriwal has fulfilled his promises. So they can be trusted. Not only his speech but also his work is commendable. This state needs an educated leader like Kejriwal.
- Meenu Bala, Vikasnagar
Share this story