Kanwal Singh said- Jat education company, The term ended one and a half years ago, now there is no right to interfere in the management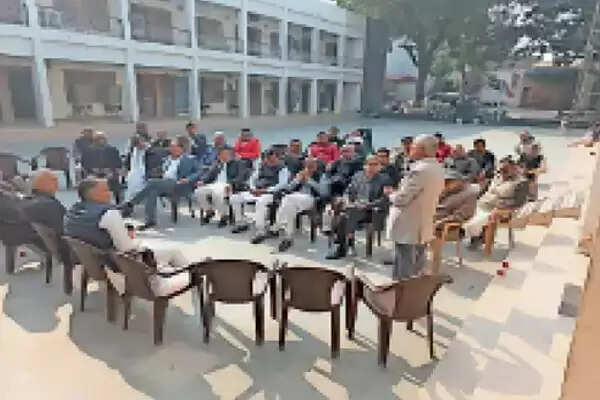 Employment News-A memorandum will be submitted to the DC in the name of the Chief Minister, demanding the appointment of an administrator to handle the work of the Jat Education Society. This decision was taken in a meeting of the enlightened people and representatives of Jat society held under the chairmanship of former minister Kanwal Singh at Jat Dharamshala. Former minister Kanwal Singh said that the tenure of the executive committee of Jat Education Society has ended one and a half years ago.
Therefore, after the completion of the tenure as per the rules, the executive has no right to interfere in the management of the educational institution. He said that the election of Jat Education Society is not being conducted deliberately and the Societies Act is being violated. Advocate Yogesh Sihag, representative of Jat Education Society, said that the memorandum will be handed over to the DC on January 4 in the meeting.
If the government does not appoint an administrator in 15 days, then the next strategy will be prepared. In the meeting, representatives of Jat Education Society, former commissioner Yudhveer Singh Khayalia, Prof. KL Rinwa, OP Sehrawat, Rajendra Singh Poonia, Raj Kapoor Bamal Advocate, Ravindra Pannu, Pradeep Poonia, Karan Singh Kundu, Prof. Raghuveer Goyat, Jagdeep Rathi, Inder Singh, Yogendra Singh Sindhu, Balraj Takshak, Kulbir Singh Mor, Balraj Malik, Mahendra Singh Jaglan, Kulbir Duhan, Rajesh Sihag, Sewa Singh Gill, Chandiram Sehrawat and Navneet Sarsana, Dharamvir Goyat, former principal DS Kharb , Kartar Singh Siwach, former Registrar Rajbir Mor, Yashveer Malik and Vijender Hooda were present.
Share this story