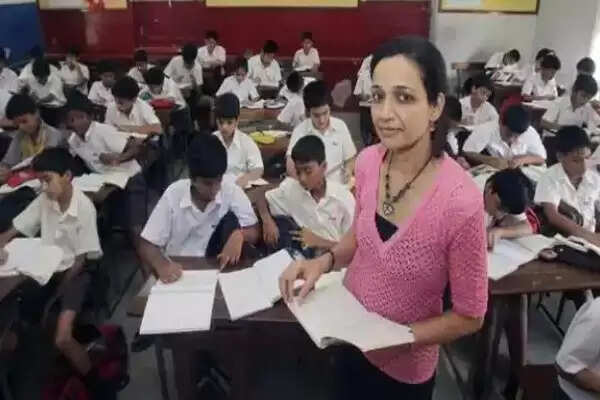 Employment News-If teachers and employees of elementary schools of the state are given more amount in the head of salary, then that amount will be recovered from the district superintendent of education of the district concerned. For this, the Department of School Education and Literacy has issued instructions to all the District Superintendents of Education. After such cases came to light from many districts, Director of Primary Education Kiran Kumari Pasi has given the above instructions.
1240 crores has been released by the government for the salary of teachers
In many districts, more than the prescribed salary allowance is released. It has been consistently found that many teachers in different districts are paid salaries and allowances more than the fixed pay scales. Later, an attempt is made to recover that amount. This also brings to the fore court cases. To ensure that such a situation does not arise, only the prescribed amount should be released. If the amount is paid more than the prescribed amount, it will be recovered from the concerned withdrawal and disposal officer, District Education Superintendent. He has instructed the DSE that the advance amount will be adjusted on the final salary certificate and the amount will be released only after getting the no-objection certificate. The amount has been released for the teachers of elementary schools of the state in the salary head. The government has released Rs 1240 crore.
Amount released to these districts in salary head
The teachers are expected to pay the amount before Diwali. Bokaro 58.56 crore, West Singhbhum 92.03 crore, Chatra 26.84 crore, Deoghar 75 crore, Dhanbad 92.43 crore, Dumka 66.12 crore, Garhwa 42.72 crore, Giridih 74.35 crore, Godda 40.21 crore, Gumla 49.34 crore , Hazaribagh 48.51 crore, East Singhbhum 96.19 crore, Jamtada 30.60 crore, Khunti 19.85 crore, Koderma 17.20 crore, Latehar 81.98 crore, Lohardaga 23.67 crore, Pakur 30.16 crore, Palamu 70.34 crore, Ramgarh 25.24 crore. crore, Ranchi 99.89 crore, Sahibganj 37.40 crore, Seraikela 52.87 crore and Simdega 28.49 crore have been released.
Instructions for recovery from regular salary
It has been directed that the teachers and employees to whom the advance amount has been given, should be recovered from the regular salary. In view of the difficulties being faced in deducting this amount from retirement benefits, recovery from salary should be done on priority basis. If the amount has been given by the government for housing, motor car or anything, then its recovery should be done in the light of the rules and the finance rules should be followed. License fee should be deducted and deposited as per the building construction department residing in government residence. Apart from this, income tax should also be deducted at the rate prescribed on the current regular salary on the outstanding salary of the employees. DSE will be personally responsible for negligence in deducting income tax.
Share this story