Higher education minister became teacher in children class asked - understands studies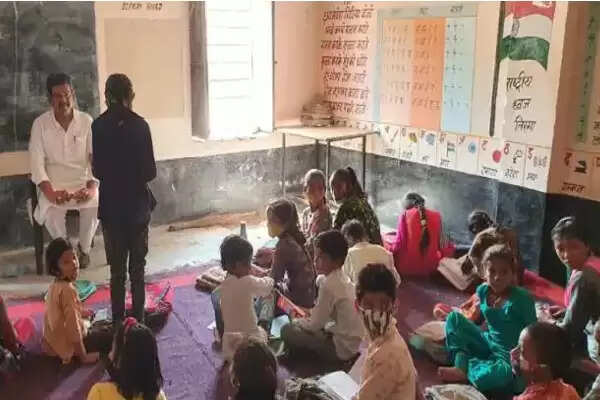 Employment News-If the minister of the state becomes a teacher and asks questions to the children, then the children will be happy, will they not? A similar view was seen in the Kolayat assembly constituency of Bikaner district of Rajasthan, where the Higher Education Minister himself became a teacher in the class.
According to the information, Rajasthan's Higher Education Minister Bhanwar Singh Bhati is on tour in his assembly constituency Kolayat for the last two days. Here in the Gram Panchayat Barsalpur (Bajju), the administration reached the camp being set up under the campaign with the villages and met the general public and took feedback. Meanwhile, the minister also reached Bhati Government Higher Secondary School, Barsalpur to know the condition of the school. Here he inspected the class rooms and computer room of the school.
Minister himself sitting on teacher's chair
When he reached the school, there was an atmosphere of happiness among the children and the teachers. In the class, the minister himself sat on the teacher's chair. The minister asked the children about their studies. He said whether the teachers here teach you well. You understand his teachings. To this the children also answered yes. However, innocent children were seeing him not as a minister, but as a teacher and were answering his questions in the same manner.

Instructions given to issue school lease
After this the villagers told that the land lease for the school has not been issued yet. Hearing this, Minister Bhanwar Singh Bhati instructed the sub-divisional officer to release the school lease in the camp organized under the campaign with the administration villages. On the demand of the villagers, the lease of the school land was issued in the camp.
Share this story