Higher Education Department presented Haryana Government roadmap on new national education policy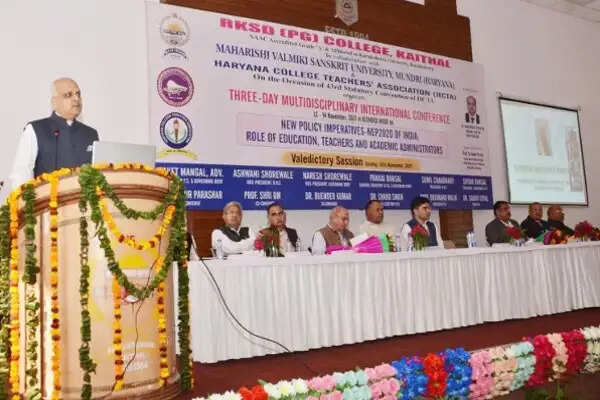 Employment News-On the last day of the three-day international conference organized at RKSD College and on the last day of the 43rd session, a government roadmap to implement the National Education Policy 2020 was presented.
Principal Secretary Anand Mohan Sharan, IAS Chief Secretary, Higher Education Department Haryana and Guest of Honor Prof. Surendra Kumar, Former Dean Academic Fair, Maharishi Dayanand University Rohtak participated. Principal of Management Committee Saket Mangal Advocate, Treasurer Shyam Bansal, Principal Dr. Sanjay Goyal, President of Haryana Teachers Association Dayanand Malik, Conference Convenor Rajbir Parashar welcomed the guests.
The convention started with a welcome motion by the Principal Dr. Sanjay Goyal. After him, Dayanand Malik discussed the goals and contribution of Haryana Teachers Association. Prof. Shriom discussed the papers received in the three-day conference and the distributions. Principal Secretary Anand Mohan Sharan appreciated the institutional development of RKSD College and described it as per the National Education Policy. He appreciated the contribution of aided colleges in the field of education. He said that the National Education Policy has been formed due to the personal efforts of Prime Minister Narendra Modi, and it is planned to implement it completely by 2030. Haryana government will implement it by 2025. CM Manohar Lal himself is keeping an eye on it. He also released a roadmap to implement this policy. Along with this, good suggestions will be considered. Principal Saket Mangal Advocate thanked all the guests and in the Presidential speech, assured all kind of cooperation and implementation of the National Education Policy.
Narendra Chahar read out the Motion of Thanks. Dr. Suruchi Sharma, Prof. Pooja Gupta and Prof Rachna Sardana. The broadcast on Facebook and YouTube was conducted by Dr. Gagan Mittal, Dr. Vikas Bharadwaj, Dr. Matish Garg, Dr. Rajiv Sharma, Kamal Sharma and Jaidev. In the afternoon session, Secretary General Dr Chand Singh presented the report of the last three years.
Share this story