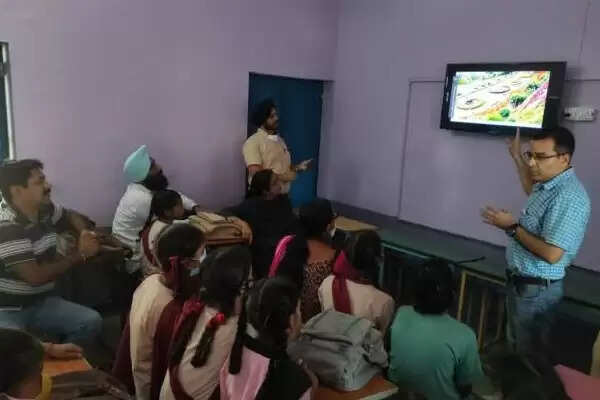 Employment News-Hi-Tech Education for Students This is the specialty of all Government Middle Schools, Mirzapur. Projector based smart classrooms, audio-visual education system, buildings equipped with state-of-the-art facilities, good classrooms, furniture, projectors, RO water for drinking, Dining Hall with Dining Table, Hand Washing for students to eat mid-day meals. Arrangements have been made for stations, clean toilets etc. The class which once used to be burdensome for the students, has started making studies attractive. Seeing the teachers teaching, those who used to sleep, now the same children are studying while dancing, singing and dancing. This view is of smart class.
Ethics and conduct are also being taught
Government Middle School teacher Rajnish Kumar Guliani, Gurmel Singh said that Punjabi and English, Mathematics, Science subjects have been included in the smart class curriculum in the school. Whatever the teacher teaches in the class. His practical is also able to show and explain to the children at the same time. Subjects now show the application of equations with visual support in the classroom itself, so that the reaction to each action is shown at the same time. teachers have been trained
Deputy District Education Officer Rakesh Kumar and Block Mentor Neeraj Kanwar said that all the teachers have been trained before starting the smart class in the school and from time to time the teachers are also being updated with new technology. Is.
This makes it easy for them to mold their children into smart classes. In Government Middle School, Mirzapur, all the teachers are connecting all the classes to it by running smart classes in three classes. Dalbir Singh, Paramjit Kaur, Meena Rani told that children are getting a lot of benefit from smart classes. Children also attend class with great diligence. Beating private school: DEO
District Education Officer, Secondary Education Dr. Gursharan Singh said that this smart class is not in any private schools, but is being seen in government schools. The education of students in government schools is being done in a smart way on smart TVs. Digital boards have been installed in schools. Through which the students are studying. Now the children of government school will also give competition to the children of expensive private schools. Government schools and private schools were closed due to Kovid-19.
Now, as soon as the school opens, smart classes are being conducted in schools. Modern course material has been made very interesting for the children in Smart Class. The poems and tables that they used to memorize, are now being recited by children. What is taught to the children on the sound system and on the projector and TV screen, there they see the written and the correct pronunciation is also heard. Due to this, while it became interesting to teach children in a fun and fun way, the children are also learning fast.
Share this story