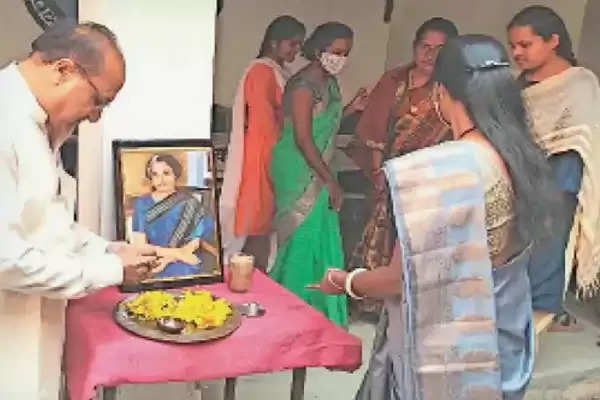 Employment News- The girl students of Government Indira Gandhi Girls Higher Secondary School here today visited the city to take education of self-reliance. All of them reached the petrol pump, fisheries and revenue office and got acquainted with the work being done there and the people doing them. Actually cg. Along with book education, knowledge of self-reliance is also being given by the government for the all-round development of the students.
Under which, city and Adarsh ​​village tours are being conducted to inculcate values ​​related to self-reliance, cleanliness campaign, environmental protection, Narva Garuva Ghurva Bari, Godhan Nyay Yojana, moral education among the students. On Sunday, on the martyrdom day of India's first female Prime Minister and Iron Lady Smt. Indira Gandhi and on the birth anniversary of Bharat Ratna Iron Man Sardar Vallabhbhai Patel, the girls of Indira Gandhi Government Girls North Secondary School acquired moral knowledge by visiting.
This program was started by Pawan Agrawal, member of Chhattisgarh Board of Secondary Education by paying tribute to Smt. Indira Gandhi and Vallabhbhai Patel in the school and told in detail about their vision and political life. After that, he flagged off three buses of girl students for excursion. The girls first reached the fish seed promotion center. There he inquired about fish culture, fodder, availability of oxygen.
During this, fisheries department officer DP Singh was present. After leaving here, the girls reached the Tehsil office to visit. Even after being a holiday, Tehsildar Ramraj Singh, Naib Tehsildar Preeti Sharma, Reader Anil Mirre and Reader Arun Kumar Rawani of the sub-divisional officer informed about the revenue related works to be done in various branches. He was given detailed information on various penal codes, court functions, caste, income, residence certificate and revenue matters one by one.
Indoor stadium was also inspected -
Taking their curiosity towards sports, the girls visited the indoor stadium of the government college. Where he inquired about the stadium's infrastructure and sports track. After that, after reaching Bharat Petroleum located in Lakhjhar, inquired about the fuel to be filled in various vehicles, their maintenance, fuel tank capacity, fuel unloading, safety and precautions in the pump premises. Pump operators Basant and Dhanesh Yadav contributed to providing this information.
The girls also gathered information by visiting another Indian Oil pump. There other information was provided to him by the operator of the pump, Tikeshwar Yadav. He also informed the girl students about the education of B.Ed and nursing. SDM Pratap Vijay Khesa provided three buses for the educational tour to the girl students of Government Indira Gandhi Kanya Vidyalaya. Principal KK Induwar informed that free buses were provided by the Principal of St. Xavier's English Medium School, Sunil Khalkho. He thanked SDM Pratap Vijay Khess and Principal Sunil Khalkho.
Share this story