Four Deans appointed in Gitanjali College to oversee the signatures of visiting scholars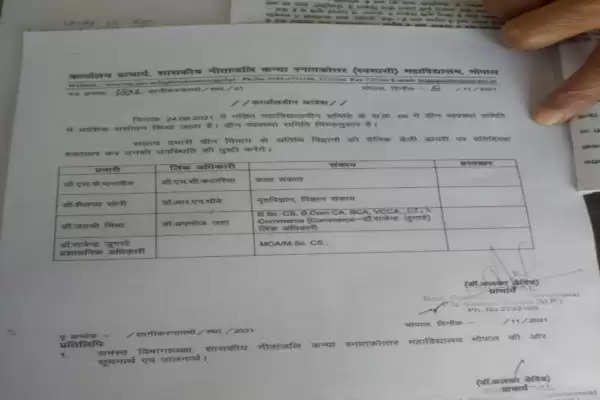 Employment News-About 36 visiting scholars are posted in Gitanjali College, DIG Bungalow. To keep an eye on his signature, the principal of the college has implemented the dean's system. Four Deans have been appointed in the college. The Dean will only monitor the attendance and signatures of visiting scholars. The principal has appointed even four dean's link officers, so that they can be monitored by all. The college principal says that visiting scholars come and go at any time. Sometimes they sign the register even when they are absent. In this way the studies of the students are getting affected. Till now only deans have been appointed in universities and IITs and NITs. The principal of Gitanjali College in the capital, Dr. Alka David, has appointed four deans, while the deans in the university belong to the faculty.
The principal has appointed deans outside the faculty. Rajendra Jugade, Professor of Social Science has been appointed in MCA, MSc CS. At the same time, Professor of Science Shailja Soni has been appointed in Home Science. Similarly, commerce professor SK Malviya has the responsibility of art. According to the information, the principal has appointed the dean only to supervise the visiting scholars. He has also issued an order in this regard. In this, where three link officers have also been appointed for every four deans. It includes SC Kataria, RN Choubey and Afroz Jahan. All the above deans will sign daily diaries of about 36 guest scholars present in the college and confirm their presence. Apart from this, the Dean will not take any responsibility of any kind. Let us inform that there is a provision of Principal, HOD, Professor, Associate Professor and Assistant Professor in the colleges of Higher Education Department. Even in some colleges, registrars remain. At the same time, the librarian and sports officer are getting the pay scale equivalent to the professor. Dean's system is nowhere in the entire department. Even after this, Principal David has prepared the post of dean and made appointments. There are no deans in all 528 government colleges in the state, only deans have been appointed for visiting scholars in Geetanjali College.
version
- Dean is appointed for regular in Nutan College. Here deans have been appointed for visiting scholars. I have made this arrangement to keep a watch on the visiting scholars.
Dr. Alka David, Principal, Geetanjali College
Share this story