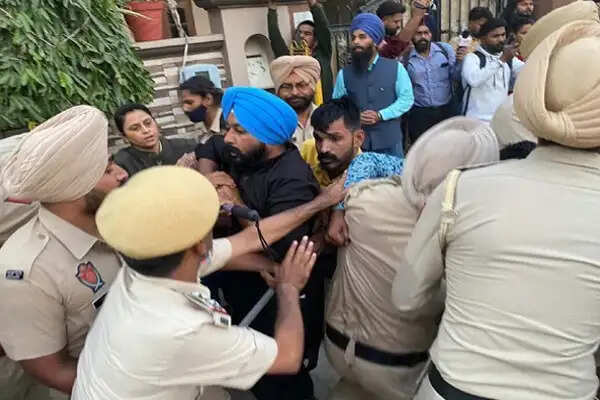 Employment News-ETT teachers, who were struggling for the demand of notification to release the posts of teachers, managed to enter Education Minister Pargat Singh's kothi on Monday. Although the police had put up barricades in front of the kothi as soon as these teachers came, but these teachers broke the barricade and entered the education minister's kothi in the presence of the police.
The police tried hard to stop these teachers, but the teachers entered the education minister's kothi. These teachers staged a dharna in the kothi itself and did not raise the dharna even after being told by the police. Ravinder Kumar, SHO of police station number 7, had to pay the brunt of the teachers entering the education minister's house by appearing on the line. Apart from this, many other employees of the police station were also put on line.
Ravinder Kumar was transferred on Monday itself by Police Commissioner Naunihal Singh and he had joined duty at the police station a few hours back. When these protesting teachers got a message that they had got time for a meeting with the Education Minister on November 17, then the teachers ended the protest.
15 to 20 reached inside the education minister's kothi and hundreds of teachers standing outside the kothi raised slogans against the Channi government and the education minister. These teachers said that they are repeatedly sent with consolation, but no action is taken in this regard.
It is not appropriate for teachers to enter private residence: Education Minister
Jalandhar. Education Minister Pargat Singh said that it is not proper for teachers to enter their residence. That too at a time when he was busy thinking of ways and means to solve their pending problems. He has already met these teachers several times and instructed the department to look into their genuine demands sympathetically. However, due to this behavior of the teachers, not only my elderly and ailing parents but also many people living in the area have suffered a lot. I request him not to do any such work in future.
Share this story