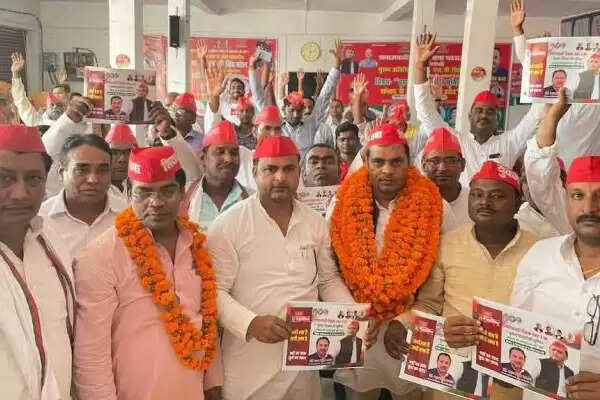 Employment News-The meeting of the teachers' meeting was held at the Samajwadi Party office on Monday under the chairmanship of state general secretary and chief guest Dr. SP Singh Patel. During this, the state general secretary not only condemned the policies of the BJP government, but also called it anti-teachers. Said that the education system is dying under the BJP government. The interest of teachers is possible only in the SP government.
Addressing the workers of the teachers' meeting, the chief guest Dr. Patel said that whenever the Samajwadi Party government has been formed in the state, unprecedented, historical and remarkable works have been done in the field of education. With the restoration of old pension, restoration of Shikshamitras, respectable salary and service rules of financeless teachers, solution to the problems of education motivational, the solution of various problems of education and teachers is possible only after the formation of a socialist government. Dr. Patel said that respectable honorarium to teachers without finance, regularization of subject experts, grants to schools, timely pension to pensioners etc. All such works have been done in the Samajwadi government, which will prove to be a milestone.
During the tenure of the BJP government, the general public, including students, parents, teachers, education friends, is upset and disappointed. The program was presided over by District President Amir Hussain. Manidev Mall, Chatthu Yadav, Dr. Vinod Kushwaha, Deen brothers, Dr. Umesh Yadav, Ram Lalit Maurya, Ram Daras Sharma, Mithilesh Chaudhary, Rajesh Patel, Kailash Yadav, Santraj Yadav, Rahul Mishra, Atul Patel, Vijay Bahadur Chaudhary, Sheela Gautam , Shamim Khan, Amarjeet Sahni, Satyapal Yadav, Bechan Nishad, Izhar etc. were present.
Congressmen protested by keeping a fast of silence
Maharajganj: On the call of Congress National General Secretary Priyanka Gandhi to demand justice for farmers and dismissal of Union Minister of State for Home in Lakhimpur Kheri violence case, Congressmen in Maharajganj protested by observing silence in front of Mahatma Gandhi's statue.
The activists who are observing a fast of silence have demanded the dismissal of Union Minister of State for Home Ajay Mishra Teni. State President of Congress Scheduled Caste Cell Alok Prasad, District Vice President Noor Alam, Vinod Singh, Viraj Veer Abhimanyu, Kapil Dev Shukla, Akram Silwani, Sandeep Tiwari, Mukul Patel, Ramkrishna Sahni etc. were present in the program.
Share this story