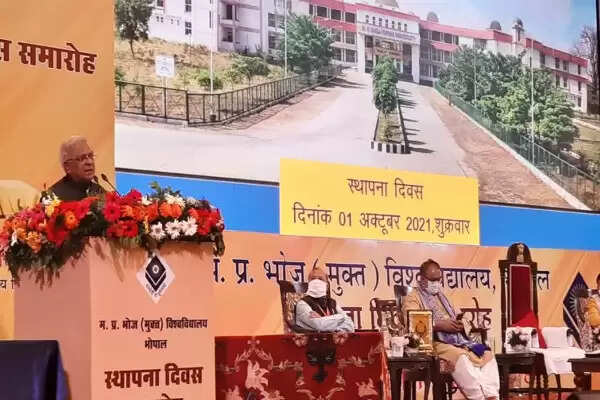 Employment News-Today 20 lakh children who came out of Bhoj University are working in different fields across the country. Education needs to be simple, accessible and affordable. Education is very important to make dreams come true. This was stated by Governor Mangubhai Patel during the foundation day celebrations of Madhya Pradesh Bhoj (Open) University held at Minto Hall. He said that in our India, children from abroad used to come to Taxila, Nalanda University. Now the children here are going to get foreign education. We will have to make the same system of education again, in which we can emerge as Vishwaguru again. In the field of education, India has to be made the world leader again and the National Education Policy has been prepared in this perspective, so include new courses for skill enhancement in universities. Many such courses should be included so that youth can get employment. The new education policy has been prepared in such a way that we are going to become a world guru again.
Higher Education Minister Dr. Mohan Yadav and National Organization Minister of Bhartiya Shikshan Mandal Mukul Kanitkar were the Chief Guests in the program. Higher Education Minister Dr. Yadav said that it is a matter of joy that for the first time the foundation day function of this university is being organized in the name of Raja Bhoj. For this, he congratulated the Vice Chancellor of the University, Dr. Jayant Sonwalkar. He said that at present 1.5 lakh students are studying in the university. In this, about five lakh students can study. What the university needs. We are ready to give it. I am happy that in the name of Raja Bhoj, this university will get help from all the private and government universities of the state. It is the first university in the state in distance education, which is going to start line classes in association with many universities here.
In the program the Vice Chancellor of the University, Prof. (Dr.) Jayant Sonwalkar gave information about the merits of the university. During this, the university's magazine souvenir 'Bhoj Darpan 2021' was also released. During this, a short film focusing on the historical achievements of 29 years of the university was also screened.
Share this story