For the first time, education policy was brought in the interest of the country: Kothari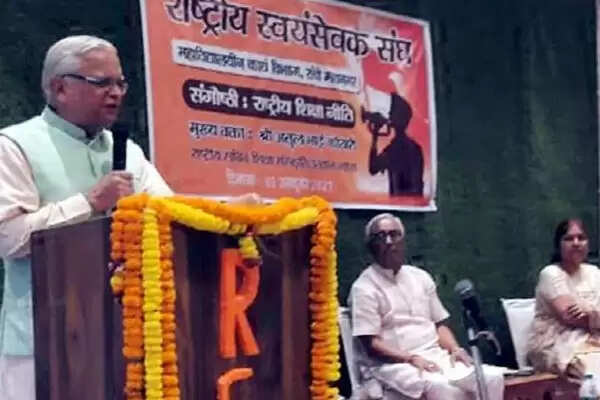 Employment News-Atul Kothari, National Secretary, Education, Culture Utthan Nyas said that after the attainment of independence, for the first time in the country, education policy in the interest of India has been brought. Its objective is to create such citizens who have professional knowledge, skills and ability to take the country and society forward. This policy is Indian in thought, intellect and action. It talks about the development of all classes.
Special education has been given to the people belonging to tribal areas, backward and downtrodden classes. At the same time, a separate fund is being arranged for the education of women. We were waiting for this policy for 74 years. The time has come for children and parents to understand and accept this policy. This policy is of the society, not of the government. So it is our responsibility to bring awareness in the society.
He was speaking at a seminar on New Education Policy organized by the College Student Affairs Department of Rashtriya Swayamsevak Sangh (RSS) in Ranchi on Sunday. Atul Kothari said that many changes are being made through this education policy. On one hand, while changes are being made in the curriculum of classes, on the other hand preparations are being made to teach all the subjects keeping in mind the vision of inclusiveness. Deendayal's Integral Philosophy has been included in the curriculum.
Now education will be given in sports for five years
Atul Kothari said that till class VIII, children will be given education in their mother tongue and local language. Arrangements are being made to educate children in sports and games till the age of five years. Vocational education from class VI to VIII and skill development from class IX to XII will be compulsory for all children. After that the examination system has been changed. The children will have the right to choose the subject in class IX to XII. In the course of the next four years, if studies are missed after one year due to any reason, then only one year degree will be given. Now after doing honors you can do PhD. No need to do PG. If due to any reason, after three years, you miss your studies and you want to study again, you can study. Like LA, now a four-year BEd course is also being introduced. If you want to do B.Ed after three years of graduation, then you can do a two-year course. Along with this, autonomy in education is being promoted.
Now the government will not choose the Vice Chancellor
He said that now the government will not choose the Vice-Chancellor. This work will be done by the Governing Body of the University. The status of all universities will remain the same. After abolishing the separate commission in education, a commission for higher education will be formed at the national level. Research Foundation will be set up to promote research.
Engineering and management will also be taught in the local language
He said that the children of villages become successful in IITs but they face difficulty in studies. Keeping all these things in mind, now preparations have been made to conduct engineering and management studies in local languages ​​including Hindi. Along with this, the students of IIT can also study other subjects. Nothing without English This mindset needs to be changed. The imperative of English is frustrating the talent of our country. Changes will be seen in the coming time. There is a need to pay attention to how this policy is implemented. The program was presided over by the Vice Chancellor of Ranchi University, Kamini Kumar. RSS's Ranchi Mahanagar Sanghchalak Pawan Mantri, State Head of College Branch Gopal Sharma, Area Service Chief Ajay Kumar and many dignitaries of the city and a large number of students were present.
Share this story