Education Minister Kanwarpal Gurjar will announce the implementation of equal pay at 3 pm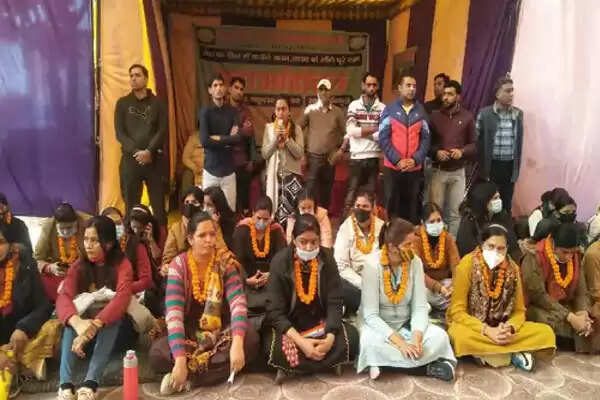 Employment News-Vocational teachers will hold a sit-in at Housing Board Chowk on Wednesday for their demands. He sat at the Housing Board Chowk till 7 pm on Tuesday. But the department's project co-ordinator Rajneesh Sharma told that after the House is over, he will be made to meet Education Minister Kanwarpal at 3 o'clock on Wednesday and his demand for equal pay will be accepted. It will be announced. After this the vocational teachers came back to the Sector 5 picketing site. Earlier in the morning, on a dharna, the women teachers decided that they would get their heads shaved.
Women teachers have submitted their list to Anoop, the state head of the Vocational Teachers Association. There are about 110 women's names in the list. On the other hand, vocational teachers have got the support of Congress. Congress State President Kumari Selja and former Deputy CM Chandramohan Bishnoi also reached on his dharna on Tuesday. He gave his support to the dharna. State President Anoop Dhillon said that if the Education Minister announces the implementation of the demands by 3 o'clock, it is fine, otherwise the women teachers are ready to get shaved in front of the assembly gate.
Couldn't gherao on Monday and Tuesday
Vocational teachers were going to gherao the Haryana Vidhan Sabha on Monday. The women had reached the protest site with their children. Then on the information of the gherao, the government invited talks. The talks with the officials of the Education Department went on till 5 pm.
After this, the Director of Education assured that he would be introduced to the CM after the House proceedings were over on Tuesday. In such a situation, the talks on Monday remained fruitless. After this, on Tuesday, the women teachers decided to get shaved.
Anoop Dhillon, the state head of the Vocational Teachers Association, said that there is a fight for justice against injustice, a fight against the dual policies of the government. Vocational teachers are forced to spend the night in tents in Panchkula Sector-5 in the harsh winter for the last 59 days.
Share this story