Ed-tech companies giving online education will not be able to do Fraud, government issued advisory, will have to do this work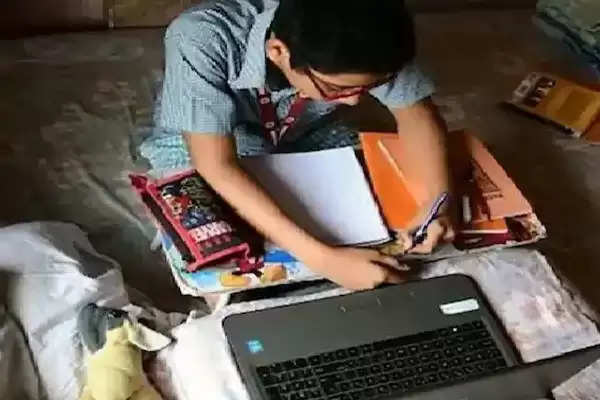 Employment News-During the covid period, there have been massive changes in many activities and routines of life. The practice of social distancing has increased excessive dependence on the Internet. The Internet has also made the education sector wider and easier. Considering the massive impact of technology in education, many ed-tech companies have started courses, tutorials, coaching for competitive exams, etc. in online mode. However, with the increasing craze of online education, frauds have also become very active. The government has issued an advisory to be careful while choosing online material and coaching offered by ed-tech companies. This advisory has been issued for both students and companies.
Avoid being cheated by following the Do's and Don'ts
If you are taking the service of ed-tech companies then definitely do this
Avoid automatic debit option for payment of membership fee. Some ed-tech companies may offer a free-premium business model where a lot of their services may seem free at first glance, but to gain access to continuous learning, students must opt ​​for a paid subscription one. Activating auto-debit will result in edtech companies deducting fees for services you do not even need without prior notice.
Please read the terms and conditions before accepting acceptance of the learning software/device as your IP address/or personal data may be tracked.
Ask for tax invoice details for the purchase of educational equipment filled with content/ in app purchases/ pendrive learning.
Do a detailed background check of the ed-tech company you wish to subscribe to.
Verify the quality of the material provided by ed-tech companies and ensure that it is in line with the curriculum and the scope of your study and is easily understood by your child.
Clear all your doubts/queries regarding payment and material before investing any amount for your child's education in any ed-tech company.
Activate parental controls and security features on the device or in the app or browser as this helps to restrict access to certain content and limit spending on in app purchases.
Help your child understand that certain features in education apps are used to encourage more spending. Talk to them about potential marketing strategies and results used by ed-tech companies.
Check online student/parent reviews on Ed-Tech Company for any registered complaints and marketing gimmicks. Also, provide your suggestions and reviews that may be beneficial to others.
Record evidence of spam calls//forced signup for any education package without full consent to file a complaint.
what not to do
Don't blindly trust ads from ed-tech companies.
Do not sign up for any loans that you may not be aware of.
Do not install any mobile ed-tech application without verifying the authenticity.
Avoid credit/debit card registration on apps for membership. Set an upper limit on expenses per transaction.
Avoid adding your data like email, contact numbers, card details, addresses etc online as the data can be sold or used later for scam attacks.
Do not share any personal videos and photos. Be careful not to turn on the video feature or make video calls on unverified platforms. Keep your child's safety a top priority.
Do not subscribe to unverified courses because of their false promises.
Don't trust "success stories" shared by ed-tech companies without proper scrutiny as they can be a trap to gather more audience.
Do not allow purchases without parental consent. To avoid in-app purchases; OTP based payment methods can be adopted as per RBI guidelines.
Do not share your bank account details and OTP number with any marketing staff. Beware of cyber fraud.
Don't click on links from sources you're not familiar with, or open any attachments or pop-up screens.
It is mandatory for any e-commerce organization to do this in India.
All ed-tech companies shall have the name and contact number of a Grievance Officer and the Grievance Officer, and the designation of the Grievance Officer, resident in India to ensure compliance with the provisions of the Grievance Redressal Act or the rules made thereunder. Should be. To report any other matter; To be displayed on the platform or website and to ensure that the Grievance Officer acknowledges the receipt of any consumer complaint within forty eight hours and redresses the complaint within one month from the date of receipt of the complaint.
No e-commerce entity shall manipulate the price of the products/courses offered on its platform in such a manner as to determine the prevailing market conditions, the essential nature of the course, any exceptional circumstances under which the course is offered, and any other relevant consideration as to whether the value charged is reasonable; and to discriminate between the same class of customers or to make any arbitrary classification of their personal data collected through unfair means affecting their rights under the Act/violating privacy.
Each e-commerce entity shall only record the consumer's consent to the educational product offered on its platform where such consent is expressed through an explicit and affirmative action, and any such entity shall automatically record such consent Which will not have pre-checked checkboxes.
Every e-commerce entity shall effect all payments for refund requests granted by the Reserve Bank of India or any other competent authority under any law, within a reasonable period of time, or as prescribed under applicable laws. ,
These guidelines have to be followed while advertising
Unless the advertiser can corroborate with evidence, the advertisement shall not state or cause the public to believe that any institution or course or program is official, recognized, authorized, accredited, approved, registered, affiliated, endorsed, or a legally defined position.
An advertisement offering a degree or diploma or certificate which is required to be recognized by law or approved by an authority shall bear the name of the specified authority for that particular field.
If the advertised institution or program is not recognized or approved by a mandatory authority, but is affiliated to any other institution which is approved or recognized by a mandated authority, the full name and location of the said affiliating institution shall also be stated in the advertisement Is.
The name of the affiliated institution, as indicated in 2(b), shall not be less than 50% of the font size, as in the advertised institution or program such as in print, internet, billboards, leaflets, visual media. brochures etc., including television. The name of the affiliated organization (if applicable) must be mentioned in audio media such as radio or TV.
The advertisement shall not inform or induce the public that enrollment in the institution or program or preparatory course or coaching classes will provide the student with a temporary or permanent job, admission to institutions, job promotion, increment, etc.
For future job prospects.' The font size of the disclaimer should not be less than the size of the claim being made in the advertisements.
The advertisement will not claim with respect to the extent of passed batch, highest or average compensation of placed students, enrollment of students, admission of students in renowned educational institutions, marks and ranking of passed students, testimonials of topper students. Competitive ranking of the institution or its programme, size and qualification of its faculty, affiliation to a foreign institution, infrastructure of the institution, etc. unless they are of the latest completed academic year and attested with evidence.
The advertisement indicating the competitive rank of the institution or its program shall also include the full name and date of the publication or medium that issued the ranking.
The visual infrastructure of the institution shown in the advertisement shall be original and present at the time of issue of advertisement.
An advertisement shall contain the testimonials of the toppers from the students who have participated in the testimony program, examination or subject from the advertisement institute only.
An advertisement stating the number of passed students placed for the jobs will also have the total number of students passed out from the class.
Share this story