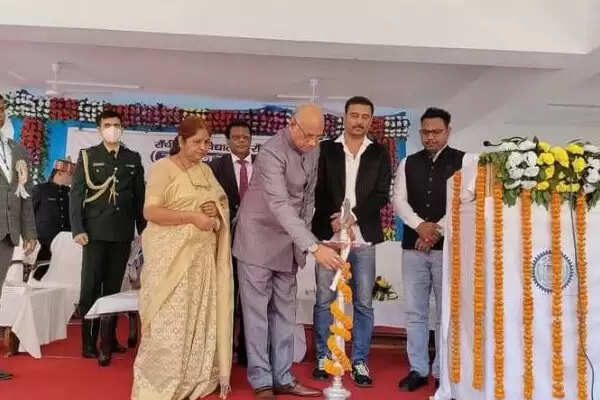 Employment News-I am committed to the development of education in the state. A high level of academic environment was created in the state and the migration of students to other states was stopped. The shortage of infrastructure and teachers in educational institutions has to be overcome. Governor Ramesh Bais said these things at the inauguration ceremony of newly constructed college building of Pachpargana Kisan Mahavidyalaya, Bundu. The Governor said that India is a country of youth. It is our moral responsibility to provide better education and employment to the youth. Youth will also have to be involved in the Navnirman of Shreshtha Bharat. Said that in this college of remote rural area, where more than ten thousand students study.
This college building will prove to be a milestone in creating an educational environment. Sudesh Mahato, former Deputy Chief Minister and MLA of Silli Vis region, who was present on the occasion, said that the visionary intellectuals, who established the college 48 years ago in 1972, deserve to be thanked, due to whose vision, education was awakened in every household of Pachpargana. Everyone needs to work together to ensure that the students get quality education. Local MLA Vikas Munda said that the college has got a new building after a long wait. The students who came out of this underprivileged college have brought laurels to the state in every field. Vocational, BEd, PG education should be started in the college so that the children of tribal, dalit and backward tribes get a chance to get higher education.
The Vice Chancellor of Ranchi University, Dr. Kamini Kumar said that from this session, PG studies will be done in the college. There is a shortage of teachers, for this a requisition has been sent to JPSC. He urged the MLAs present that there is lack of sports ground, boundary wall and auditorium in the college. Help build infrastructure with your funds.
College has also to be done. But for this it is necessary to build some basic infrastructure. He also announced to start vocational and B.Ed studies in the old building of the college soon. On the occasion Registrar Dr. Mukund Chandra Mehta, CCDC Rajesh Kumar, Finance Officer Ashish Kumar Jha, Controller AN Shahdev, Principal Dr. Arun Kumar Dr. Radharaman Sahu, SDM Ajay Kumar Sao, BDO Sandhya Mundu, Bundu Nagar Panchayat Vice President Sunil Jaiswal, Ulgulan Foundation Vice-President Ram Barrel Munda etc., faculty and students of the college were present in large numbers. Earlier, on his arrival, the students of the college welcomed him with a traditional dance anthem.
Share this story