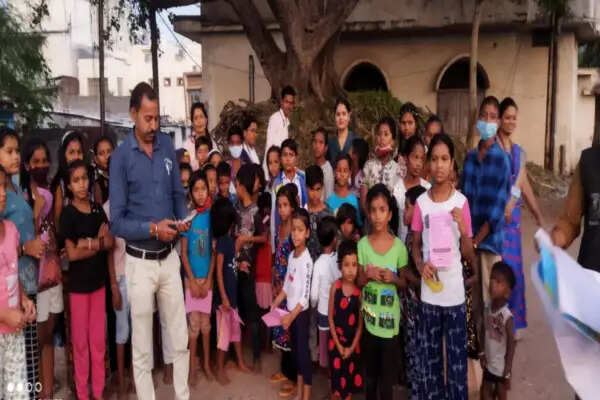 Employment News-These days child line friendship is being organized by dedicated social organization. Children are being educated about child safety and protection by going to the slum areas. Seema Verma, the operator of One Rupee campaign, informed the children about good and bed touch.
Childline Friendship Week was organized in Talapara Slum Basti by Childline Project 1098, run by the social organization Dedicated in collaboration with the Department of Women and Child Development, Government of India. Its main objective is to create awareness among children about child safety. The President of the dedicated organization, Dr. Sandeep Sharma told that on the occasion of Children's Day, the Child Line Friendship Week will run from November 14 to November 20.
On this occasion, Childline team is going to various schools to educate the children about the ill-effects of Facebook Instagram through child safety and protection Good Touch Bad Touch Mobile. In Talapara, it was told about the measures to avoid this side effect. Under this program, games and games were organized for the children. It is to be known that for the last 10 years, Childline is operating a free number 1098 for the help of children.
In which by calling any child or person can take help of Childline for the safety of children. In making this program successful, the organization's project director Nazneen Ali Center coordinator Purushottam Prandey and Tripti Dubey Nandkumar Pandey Dharmendra Kaushik Praveen Markam Pushpa Banjare Mamta Kshatriya, Didi Seema Verma of one rupee campaign played an important role.
Share this story