Chandigarh Education Department could not get nursery teachers to join for two years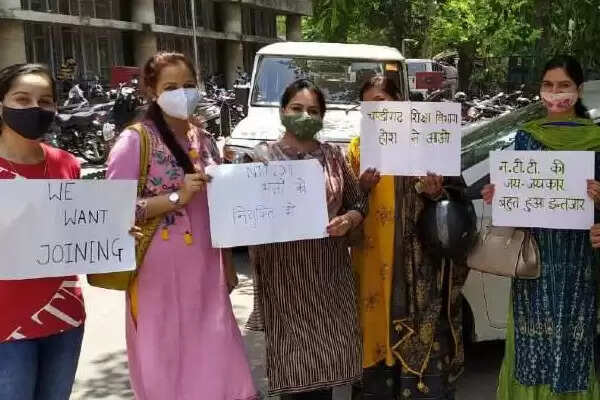 Chandigarh Education Department has not yet been able to give joining to the teachers who have passed out for the recruitment of Nursery Teachers in 2019. Vibha has shortlisted 17 people in this recruitment, but despite the passage of two years, they have not yet been able to join them. In such a situation, these teachers reached the Education Department office located in Sector-9 on Thursday. Where, after meeting the top officials in the Finance Department, the Director School Education met Dr. Palika Arora. The applicants have been assured that by the end of October 2021, they will be given the joining letters.
Among the teachers who reached the education department's office, Pavita said that we have been meeting the top officials of the department for a long time. Every time it is postponed by giving an assurance of joining soon. Earlier today some employees in the Finance Department gave assurance and after that the Director School Education has also assured of joining soon.
this is the case
Chandigarh Education Department has released NTT Recruitment on 131 Posts in November 2019. The recruitment consisted of written test and interview. After the interview the applicants were also shortlisted but the joining was not given. According to departmental sources, the department is confused about the rules of joining. For a long time, the Chandigarh Education Department has been adopting the Central Rules for the employees and sometimes the Punjab Service Rules. The rules have not been cleared at the time of recruitment in November 2019 but by the time of joining in February-March 2021, Punjab Service Rules have been adopted in Chandigarh.
Apart from this, problems are also going on for NTT one and two years. NTT used to be of one year till the year 2016-2017 and after that it was of two years. When the recruitment process was started, there was no clarification on the educational qualification as well. The NTT of two years was made mandatory at the time of joining, after which many applicants have taken refuge in the Central Tribunal Court.
Share this story