Anganwadi workers, who came to surround the residence of the Education Minister, clashed with the police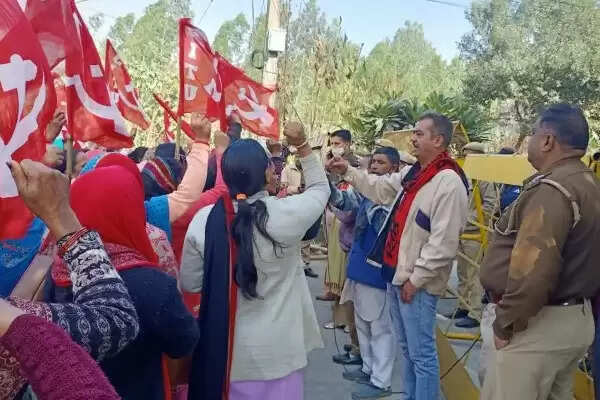 Employment News-On Friday, the employees under the banner of Anganwadi Workers and Helpers Union gheraoed the Education Minister's residence. During this, there was a scuffle with the security force posted here. Seeing the matter deteriorating, the SDM was called to the spot. The employees left for the education minister's residence in the form of a procession. Heavy police force was deployed at the spot for security. To stop the Anganwadi workers, the police had put up barricades long before the residence.
Friday was the tenth day of the strike being called by the Joint Coordination Committee of Anganwadi Workers. For this, hundreds of workers gathered in the grain market in front of the district headquarters. From here, she took a procession and proceeded from Matka Chowk to the Education Minister's residence via Sector-17. They were stopped by the police by putting up barricades. On which the employees raised slogans.
During this the Education Minister was in Chandigarh. Due to which it was asked to submit a memorandum to the PA. But the members refused to submit the memorandum to the PA. The workers insisted on submitting the memorandum to the administrative officer itself and they tried to remove the barricades of the police to go to the minister's residence. Due to this, the employees got into a scuffle with the police.
When they did not agree, the SDM was assured to be called on the spot. At which the employees calmed down. The SDM reached and took the memorandum of the Anganwadi workers. The SDM said that the problems of the Anganwadi workers would be discussed soon after meeting with the DC. During this, District President Rekha Saini said that the promises made by the Chief Minister to him in the year 2018 should be fulfilled soon. If the government does not listen to them, the agitation will continue. During this, District President Mahipal, District Secretary Gulshan Bhardwaj, Block Head Jot Singh Rawat, Block Head Rajbir Pindora, Roshan Lal, Secretary Sunita Karhera, Sunita, Dayawati and other officials addressed the employees.
Share this story