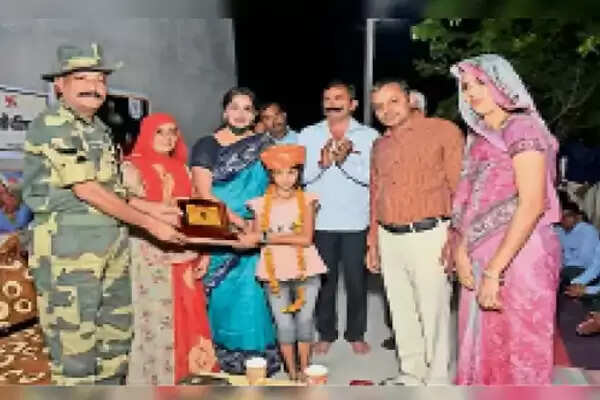 Employment News-From Vishnoi ki Dhani primary located in the barrier gram panchayat of the Panchayat Samiti, UP. On being promoted, a thank you ceremony was held on Sunday under the chairmanship of Chief Hospitality and Sedwa head Ramesh Kumar Bhil of Chauhatan MLA Padmaram Meghwal. Describing the importance of education to the people present, the MLA told that students should get cultured education, education leads to all round development of human beings.
The MLA talked about making tubewells and additional classrooms for sweet water in the school. With this, the students can get the facility in teaching work. The MLA unveiled the newly upgraded school plaque. The girls presented welcome song and Saraswati Vandana.
The program was also addressed by Sedwa ACBEO Hiralal Chaudhary, Sarpanch Sangh's Tejdan Charan, RP Premaram Bola, PEEO Hanumanram Godara. Hundreds of villagers including Gangasara Sarpanch Tej Singh Chauhan, Hathla Sarpanch Representative Chhaganlal, Bakhasar Sarpanch Bhanwarlal, Faglia Sarpanch Pursingh Chauhan, Badha Sarpanch Pepo Devi, Sarpanch Ehsan Khan, Gadra's former Sarpanch Mangalaram Dhaka, former Sarpanch Sonaram Khichad, Chhelaram Bose were present in the thanksgiving meeting. . Principal Shanti Dhaka presented the school progress report. Mangilal Bose proposed the vote of thanks. Teacher leader Ishwar Singh Gangasara successfully conducted the program.
Share this story