Administration will bear the cost of education of martyr teacher Deepak Chand's daughter: Manoj Sinha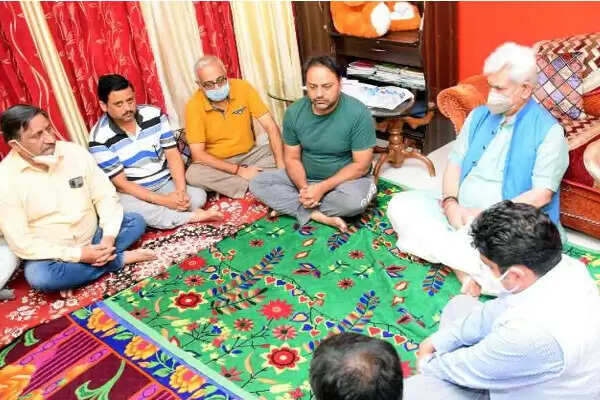 Employment News-Teacher Deepak Chand has given his life for the country. He has been martyred. Not only the Jammu and Kashmir administration but the entire country stands with him in this hour of grief. No problem will be allowed to the family of the martyr. As far as the education of Mridu, daughter of martyr teacher Deepak Chand is concerned, the government will bear the entire cost of life time education of this daughter of the state. Wife will also be given a job in place of martyr teacher Deepak.
This was stated by Lieutenant Governor Manoj Sinha. Expressing condolences to the bereaved family, Lieutenant Governor Manoj Sinha, who arrived in Patoli Mangotria, Jammu on Wednesday, to meet the family of martyr Deepak Chand, assured that all possible help would be provided to them by the state government. If the family has any kind of problem, put it before the government, it will be dealt with immediately.
While consoling the family of martyr Deepak Chand, the Lieutenant Governor also assured that the killers who killed Deepak Chand will not be spared. They have been identified. Soon the security forces will kill them in an encounter. Along with the Lieutenant Governor, Divisional Commissioner Jammu Raghav Langer, ADC Jammu Ghanshyam Singh and senior police officers were also present.
In view of the visit of the Lieutenant Governor, tight security arrangements were made in Patoli Mangotria. The movement of vehicles was diverted in the other direction even before the arrival of the Lieutenant Governor so that the drivers should not face any problem.
Share this story