Increasing burden of bags on children, 70 percent private schools do not follow CBSE guidelines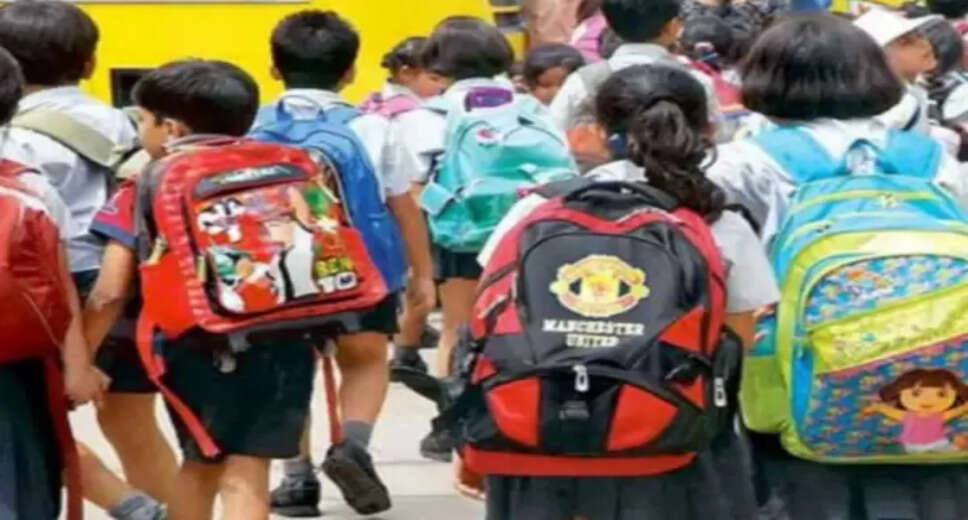 Employment News-The children of CBSE schools in the capital are getting burdened by the burden of bags. However, in 2020, CBSE had issued a guideline to reduce the burden of bags. In this, the weight of the bag was fixed for the children according to the age, but due to the arbitrariness of private schools, children are still coming to school with heavy bags. Under the guideline, instructions were also given to make lockers in CBSE schools to eliminate the burden of bags, but lockers remain in very few schools. They can say that 70 percent of private schools are not following the guidelines of CBSE.
At the same time, NCERT had also suggested that only three subjects should be studied in a day in class I or II. Four subjects should be taught in a day from class III to V and six books in a day from class VI to X, while private publishers' books are also being run in CBSE schools. In such a situation, children have to go to school with eight to ten books every day. In this regard, the Directorate of Public Instruction (DPI) has issued an order on June 23 giving instructions to implement NCERT books in CBSE schools. Although the department had issued instructions earlier also, but it is not being followed. Explain that according to the new policy, there is also a provision of weighing machine in schools to check the weight of the bags, so that the weight of school bags can be monitored, but this facility is not available in the schools of the capital.

The weight of the bag should not exceed 10 percent of the weight of the child
The new School Bag Policy 2020 released by the Ministry of Education in December 2020 states that the weight of school bags of children from class 1 to 10 should not exceed 10 percent of their body weight. Also, the weight of school bags will have to be monitored on a regular basis, but heavy bags of school children are adversely affecting the physical development of the children. Children across the state including Bhopal are lifting three to five times more weight than the prescribed standard.
Here are the guidelines
Under the new education policy, publishers will also have to print their weight on the back of the books.
There will be a total of three books in the first grade, weighing up to 1,078 grams.
There will be six books in 12th, whose weight will be up to 4,182 grams.
this is happening in schools
If every subject is studied every day, all the books have to be brought.
Schools do not pay attention to this before making routines.
Children up to KG-1 and KG-2 have to bring four to five copy-books.
This is the set standard of school bags
Class Weight Average Child Weight - Bag Weight
- Primary - 10-16 kg - No Bag
1st to 2nd 16-22 kg -1.6-2.2 kg
3rd to 5th 17-25 kg - 1.7-2.5 kg
VI to VII 20-30 kg- -2-3 kg
VIII- 25-40kg-- 2.5-4kg
IX to X - 25-45 kg - 2.5-4.5 kg
11th to 12th - 35-50 kg -3.5-5 kg
In the inspection of schools in 38 districts of the state, it has been found that 70 percent schools are not following the guidelines. The weight of school bags of primary children has been found to be 20 to 30 kg, while the standard weight is up to 2.5 kg. This has a negative impact on the physical and mental health of the children.
-Brajesh Chauhan, Member, Children's Commission
NCERT books should be implemented in CBSE schools. This will reduce the burden of bags on the children as well as the pressure on the parents to buy expensive books. This order should be implemented.
Deep Vijayvargiya, Joint Secretary, Parent Federation
Forming a committee, the schools will be inspected. Schools where guidelines are not being followed. Action will be taken against them.
Nitin Saxena, District Education Officer, Bhopal