In the review meeting of the Education Department, the CM gave instructions, said- focus on quality education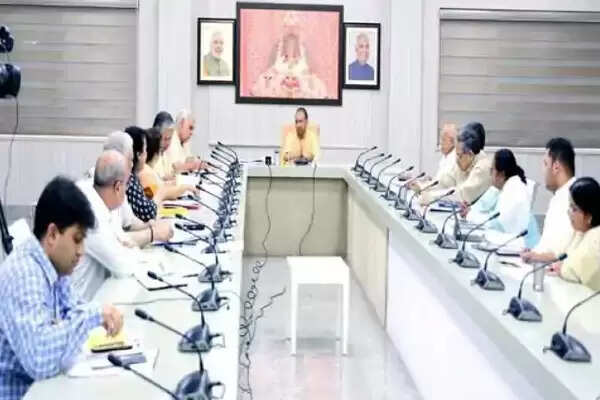 Employment News-Now preparations are being made to create a new type of SEZ (Special Education Zone) in UP. With this, talks are going on to create 5 special education zones.
This topic has been discussed in the meeting of CM Yogi and ministers and officers of all the departments related to education. Steps can be taken in this direction soon.
In fact, in the review meeting of the implementation of NEP (National Education Policy 2020) in the state, CM emphasized on focusing on quality education.
During this, the former chairman of UGC, Prof. Ministers and officers of Basic, Secondary, Higher, Technical, Agriculture and Vocational Education departments of the state including DP Singh were present.
Emphasis on increasing educational infrastructure
During this Prof. During the presentation on the topic Education in Uttar Pradesh: New Horizons, DP Singh emphasized investment in education in the state.
Referring to the provisions of the NEP (National Education Policy), he said that by the year 2035, the GER (Gross Enrollment Rate) in higher education will have to be increased by 50%. He talked about the establishment of its educational institutions in the state and to further advance the existing institutions.
A research oriented university to be established in every district
Explained the need for setting up of Multidisciplinary Education and Research Universities in all the districts of the state. He said that the districts where the university is there. Emphasized on making them multi dimensional.
CM Yogi said that with better implementation of NEP, students will not be limited to bookish knowledge. Their technical and practical skills will also improve. The Chief Minister stressed on implementing best practices of the private sector in government institutions as well.
The CM asked the higher educational institutions of the state to immediately participate in the NAAC Evolution of all the eligible institutions. At the same time, it was also added that the academic institution should not become a center for distributing degrees, nor should it work with accountability.
Regarding quality research, the CM said that research work should be promoted in universities focusing on local problems. Research topics should be social and national relevant. Global Significant Research has to be promoted.
77.7% of the total population of Uttar Pradesh lives in rural areas. Under the Bharat Abhiyan Scheme (UBA), more and more educational institutions should be connected to rural areas. Special emphasis should also be laid on the conduct of courses related to rural development.
There is also a need to promote industry and academic relations. Small scale industries should be promoted in villages through social connect to educational institutions.
The emphasis on the Secondary Education Department was on these -
Special efforts are needed for improving the curriculum and pedagogy, evaluation and examination reforms, capacity enhancement of teachers, appointment of teachers, skill upgradation in schools.
Focus on these in secondary classes
Contemporary technical know-how topics should be included in the curriculum. Basic knowledge of topics like disaster management, secure digital banking, data security, traffic management, fire safety should also be given.
State's biggest inter-departmental convergence program 'Operation Kayakalp' and 'School Chalo Abhiyan' have been successfully implemented in 1.33 lakh schools. An amount of ₹ 6200 crore has been invested for the purpose of promoting facilities in schools,
Along with the admission of children in schools, it should be decided that they get clothes and books, money is being sent directly to the parent's bank account through DBT for children's dress, sweater, school bag in council schools. Good results have been seen from this change
Teachers must be present in schools. The practice of proxy teacher should not be started. Smart class and book bank should be arranged in the council school. With a special focus on quality education, the Nipun Bharat Abhiyan calls for implementation of weekly teaching plans, libraries in schools and school leadership programs.
In the next four years, 5000 Abhyudaya Composite Schools should be established. At least model composite school should be established in every district.
There will be no shortage of funds for this work. The CM said that the development of Anganwadi centers as centers of pre-primary is getting good results. Technology should be promoted in schools.
He also directed to constitute State School Standard Authority for efficient resource and governance in schools of Secondary Education Council through "Project Alankar".
A hybrid model of online and offline teaching should be worked out in schools. He also talked about encouraging private investment in school education. At the same time, emphasis was given to encourage private participation in educational activities.
Smart classes should be established in all government schools and training of basic-secondary teachers should continue.
Vocational education needs to be included in school education at every level. Trades should be determined keeping in view the local demand and requirements. Focus on service, manufacturing and agriculture sectors. A trade is related to the selected product of ODOP
Web portals of all 27 thousand 907 secondary schools of the state should be prepared. From the bio-data of teachers, number of students, availability of subjects, examination results, history, social funding, all information related to the school should be available.
There are many secondary schools in the state which are 60, 70, 80 years old or more. It also has government schools and aided non-government schools. For their renovation, a better action plan should be prepared and a presentation should be given.
NEP i.e. National Education Policy has been made effective in UG from this session in all the universities of the state. From next session it will be implemented in PG also.
So far, the number of 58 MoUs signed by 11 state universities with local industries, handloom, handicrafts, khadi, ODOP will be increased.
In January 2022, under the NEAT program of the Government of India, 4.13 lakh students of the state got the benefit of free skill development courses. Such events should be organized at regular intervals.
Share this story