Education conference in Varanasi: National education policy will prepare the way for a golden India, the quality of research will be discussed on the second day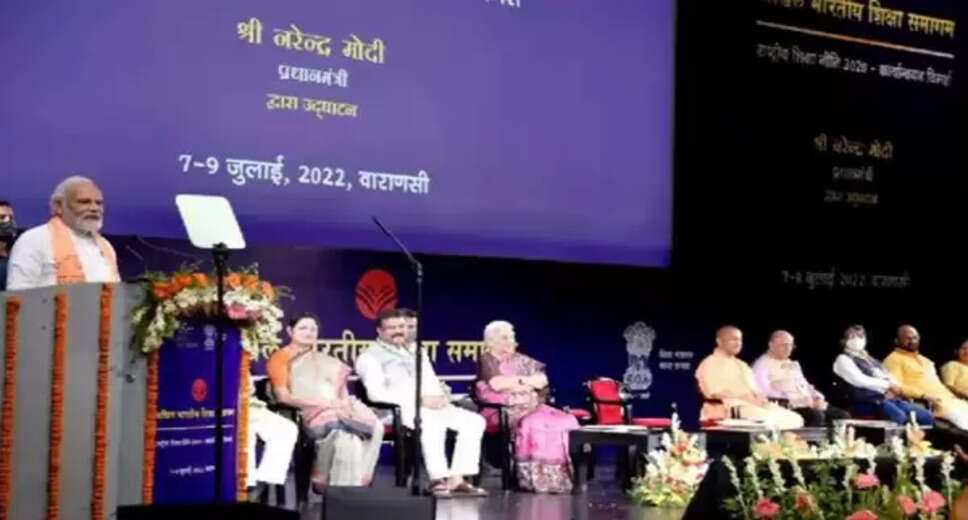 Employment News-The new education policy will prepare a new path for a golden India and according to the vision of the coming hundred years, the blueprint of universities and educational institutions will be drawn. Based on India's ancient culture, civilization, art and knowledge, the model of employable education will put the picture of New India in front of the world. The educationists said these things during the three-day All India Education Conference organized at the Rudraksh Convention Center in Sigra on Friday. On the second day of the conference, various aspects of research, quality of education, digital empowerment, online education, Indian language and knowledge were discussed.
In the first session of the second day, IISc Bangalore Director Prof. G Rangarajan said that an environment has to be created for research in the state universities. State governments will play an important role in this. AICTE Chairman Prof. Anil D Sahastrabuddhe said that we have to prepare the curriculum according to the choice of the students and the need of the market and industry.

Students should be given the opportunity to choose from a wide choice of subjects. Challenges arise regarding translation in the Indian education system. In such a situation, effective avenues have to be found to solve them. Member of National Education Policy Drafting Committee Prof. AK Sridhar said that there is a need to develop ethical leadership in universities and colleges. We cannot run away from our responsibilities. During this, Governor Anandiben Patel, Union Minister Dharmendra Pradhan and educationists from across the country were present.
Same standards may not be applicable in Indian educational institutions
Addressing the session on Quality Ranking and Accreditation, Chairman, National Board of Accreditation Prof. KK Aggarwal said that ranking, rating and accreditation are different forms of quality. As new versions of technology or equipment keep coming, similarly if a teacher also presents his new version in every academic session, then quality education will be easily possible. There is a wide variety of educational institutions in India. Evaluating them all is an extremely challenging task. The same standards may not apply to everyone. We all have to make such plans for our institutions, which clearly state what is expected of our institutions.
Promotion of Indian language will have to be done from the level of school education itself
Chairman of the Indian Council of Languages ​​on Indian Language and Indian Knowledge System, Prof. Chammu Krishna Shastri said that teaching language and teaching through language are two different subjects. Teachers have to understand this. The National Education Policy tells the students to study and research in Indian languages. It talks about being multilingual, it has to be put into practice. Most of us are well versed in one language. The task of realizing the multilingual concept will become easier if we all learn one more Indian language. There are many challenges in the direction of promotion of Indian languages. It will be easy for humanities subjects but difficult for science subjects. Indian language has to be encouraged from the level of school education itself.
Course based registration is the time, will not have to read the complete program
While discussing the Success Stories and Best Practices of AEP-2020, the Vice Chancellor of Delhi University, Prof. Yogesh Singh said that the time has come to do course based registrations so that students do not have to go through the entire program. Such institutions which do not have adequate resources, they will have to facilitate the use of those institutions' resources. Opportunities for skill development, internship and entrepreneurship need to be increased. Along with this, new courses will have to be started under the National Education Policy. Students will have to start crash courses to prepare students for advanced and comprehensive courses with flexi entry and exit facility.
National education policy will make youth a job seeker, not a job seeker
Various aspects of the new education policy were discussed in different sessions on the second day of Akhil Bharatiya Shiksha Samagam. On this occasion, the Vice Chancellors described the new education policy as encouraging creative thinking, reasoning ability and the spirit of innovation in the students.
solution to the problem of unemployment
The new education policy will prepare the youth for the future. They will become creators, not job seekers. At the same time, the other side of this policy is that it emphasizes on developing the Indian knowledge tradition along with the concept of Indianness in the mind of our future generations. He said that digital learning can never be a substitute for classroom teaching.
- Pro. Kalpalata Pandey, Jannayak Chandrashekhar Ballia University
Good opportunity to hone the skills of youth
The new education policy is very useful for teachers. This will give a good opportunity to the students to hone their abilities. According to the new policy, education will give new wings to the talent and skill of the youth, so that they will be able to prove their talent all over the world. In this, courses will be prepared according to the industries, which will help for the youth. For the success of the new education policy, people have to bring a change in their attitude and thinking.
- Pro. Ramashankar Dubey, Central University of Gujarat
Better opportunities for research to youth with interdisciplinary studies
Emphasis on technical education in policy teaching process