Children studying with umbrella in class, order to investigate the matter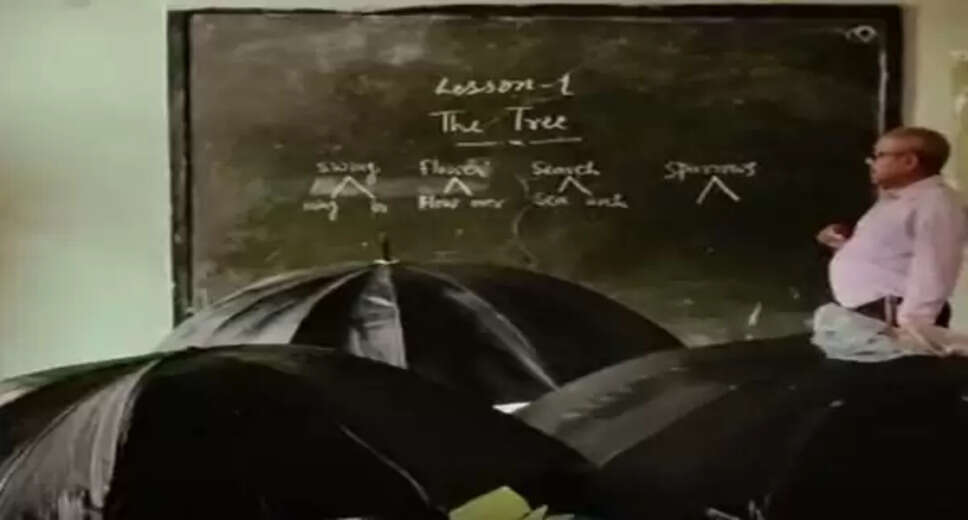 Employment News- For the past two days, the photo and video of Middle School Khairikala of Ghansor block of the district is going viral in the internet media. In this, some children are seen sitting on the floor in a school room, holding an umbrella in their hands and studying. At the same time, a teacher is seen teaching children on a black board. When the reality of this was ascertained, the matter came to the fore. According to the officials of the Education Department, the room whose photo and video is going viral, there is no class in that room. When the room is dilapidated, the children are being taught by sitting in the head reader's room. According to officials, the photo going viral will be investigated. In the investigation, action will be taken against the responsible if it comes to the fore that children will be made to sit with umbrella in the room.
There are no permanent teachers in this school
There is no permanent teacher in the middle school of Khairikala village. A teacher from another school has been temporarily posted to conduct classes in the school. According to departmental sources, these teachers do not want to stay in this school, so they have got the children viral in the internet media by holding umbrellas in their hands in this way.
The photo is of the day of the parents' meeting
Officials of the Education Department have told that the parents' meeting was held in the school on the day on which this photo is taken, on the same day this photo and video have been prepared in that room. According to officials, the teacher may have made the children sit in the dilapidated room with an umbrella in his hand to draw attention to the early repair of the dilapidated room of the school.
Operation of the school done in two shifts
Water seeps into a room from the roof of Khairikala Middle School. A proposal has been sent to the Education Department for its repair. After the approval of the amount, the education department official has said that the roof should be repaired. He has told that 60 students from class I to V and 35 students from class VI to VIII are registered in the school. For the convenience of the students, instructions have now been given to run two schools in water. Primary school will be run in morning shift and middle school in afternoon shift.
re-estimation
Earlier the estimate was prepared and sent for the repair of Khairikala Middle School. Now again the sub-engineer has been sent and the estimate has been asked for repair after re-examination, so that the repair of the school building can be done properly.
questions will be answered
Instructions were given not to hold classes in the dilapidated room of Khairikala Middle School, Ghansor. Even after this, information will be taken about how children are being taught by holding umbrellas in that room. If discrepancies are found, then questions will be answered from the concerned.-GS Baghel, DPC, DEO Seoni
Classes are not being held in the room of Khairikala Middle School whose photo video is going viral. Classes are being held in the head reader's room. This video seems to have been made in a well planned manner. It will be examined. Proposal has been sent for the repair of the room. Repairs will be done after getting the amount- Devi Lal Sen, BRC, Ghansor