All India Education Conference concludes: Union Education Minister said – National Education Policy will benefit students, future will be golden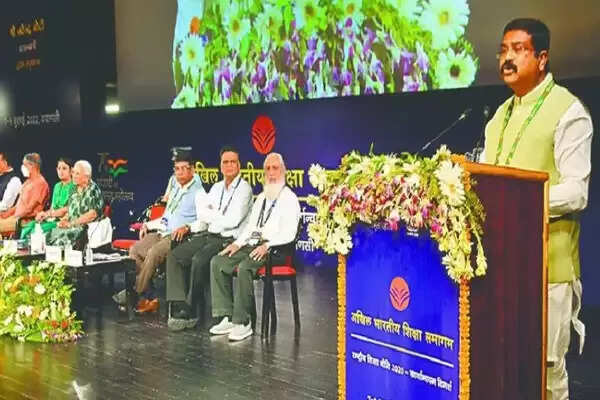 Employment News- On behalf of the Union Ministry of Education, UGC and BHU, at the closing ceremony of the three-day Akhil Bharatiya Shiksha Samagam, Uttar Pradesh Governor Anandiben Patel talked about turning challenges into opportunities and moving forward. He said that such facilities should be provided in the universities of the state so that students do not have to leave their state and go to other places.
This is also the main objective of the National Education Policy. In the Rudraksh Convention Center auditorium, the Governor said that there is a need to recognize the intellectual potential of the youth and work accordingly. It is very important that for the first time in Shiksha Samagam, people from state, central universities as well as educational institutions meet under one roof. Surely students will get benefit of this.

In the coming days, there is a need to push the students for innovation with technical proficiency. The Governor called upon the Vice Chancellors coming to the Samagam to adopt TB patients as well as provide basic facilities by adopting villages there.
Education Minister Dharmendra Pradhan said that there is a need to make a knowledge-based policy keeping in mind the twenty-first century. All India Shiksha Samagam will prove to be a milestone in the renaissance of India. Universities have to be multidisciplinary and multidisciplinary. Universities, educational institutions need to lay emphasis on skill development. Discussions will continue from time to time regarding the National Education Policy.
Minister of State for Education Dr. Subhash Sarkar, Annapurna also called the National Education Policy as a big step from the point of view of development of education and asked the Vice Chancellors, IIT Directors and other educationists to keep taking steps for its promotion. The guests were welcomed by UGC Chairman Prof. M Jagdish Kumar and vote of thanks went to UGC Secretary Prof. Rajneesh Jain.
National Education Policy Banyan Tree, Take Care
The Education Minister said that all the languages ​​of the country are national. There is a need to promote language based education. It should be the effort of universities, higher educational institutions that maximum people should be worked to promote, spread education based on the needs of the society.
National Education Policy is a banyan tree and it is the responsibility of all of us to take proper care of it. Do not play the role of job seeker but university job provider. From the destruction of Taxila in the fifth century to the destruction of the knowledge system that used to exist in Indian languages ​​and values, by Macaulay in the 19th century.
Share this story