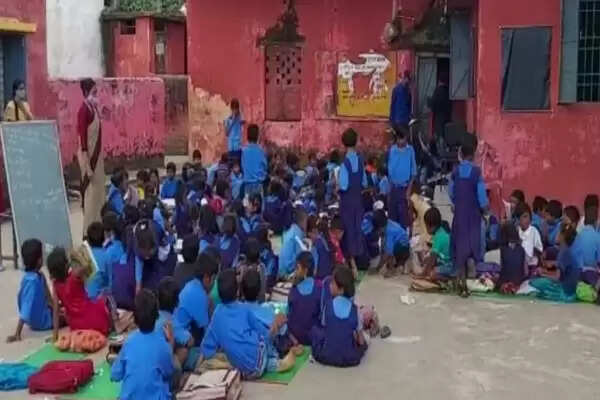 Employment News-The Government Primary School building located in Kenwatpara of Malhar Nagar Panchayat has become completely dilapidated. Ceiling plaster falling down. Seeing the danger to life, more than 400 children are being conducted by the teachers by making them sit in the sun under the open sky. Complaint has been made to the authorities. Even after this, care is not being taken.
The teachers posted in the school said that they had to take the decision to make the children sit in the open so that the school could be run. They have no other place as an alternative to the dilapidated building. Among the parents, Ramkumar told that information has been given to the higher officials and the department, yet no one is listening at any level.
Despite the government's ambitious plans, the plight of the government school is reflecting the administrative apathy. Along with the need of school building, there is also a need for adequate toilets, because more number of children are studying here, even after this no hearing is being done.
On one hand, government schools are being upgraded to English model schools, while on the other hand, teachers are putting children in danger and teaching them. The teachers say that the building is not being maintained. Nor is getting approval to construct new buildings in place of such dilapidated buildings. Because of this, children are compelled to study under the sun.
Teachers do not reach school on time, arbitrary
In Jaitpuri Gram Panchayat, it has been said to take necessary departmental action against the teachers who do not come to school on time, after which the teachers do not come on time. Parents and students are fed up with the arbitrariness of teachers. There are four teachers in the primary school of Jaitpuri but they do not come to school on time. The parents have complained to the authorities. Only one teacher RS ​​Porte was present in Jaitpuri Primary School on Monday. After a long time, teacher PK Jagat came. Head reader PR Patel has been missing from school for several days without notice. In this regard, Sarpanch Puran Kaivart told that the teachers were asked. Despite this, teachers do not come to school on time, it is gross negligence.
Share this story