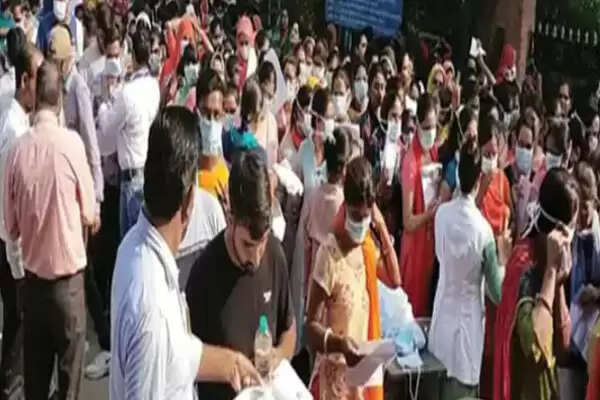 Employment News-The government has started action in the REET paper leak case in Rajasthan. 20 officers-employees including 1 RAS, 2 RPS and District Education Officer (DEO) of Sawai Madhopur have been suspended. It also includes 3 constables. They will be sacked if found guilty in the investigation. An FIR has also been registered. Departmental inquiry started against RAS and RPS. Their role in REET was found to be under suspicion. This is the first such case in the state, when action has been taken against RAS and RPS in case of copying or paper leak.
Sawai Madhopur district's Wazirpur SDM Narendra Kumar Meena (RAS), Sawai Madhopur City Circle Circle Officer Narayan Tiwari (RPS), Sawai Madhopur DSP Rajulal Meena, Sawai Madhopur District Education Officer Radheshyam Meena and 20 have been accused. This includes Head Constable Yaduveer Singh of Sawai Madhopur, Constable Devendra Singh and Constable Shaitanram of Police Station Kalandri of Sirohi. After getting the preliminary evidence, the government has suspended and set up an inquiry against them. If found guilty in the investigation, they will be dismissed from service.
Education Minister Govind Singh Dotasara said on Tuesday that complaints of rigging in the examination were received at some places. Police and Special Operation Group are continuously investigating about this. In such a situation, at present, the police and SOG team are interrogating the accused and looking for their associates.
The collusion from the teacher to the police came to the fore
REET was conducted on 26 September in Rajasthan for 31 thousand posts. 25 lakh candidates had appeared in this examination. In some places, there was a case of paper leaking by the teachers and the police personnel only. After this, the protest against the government also started. The police got information about Radheshyam Meena's involvement in the arrest after the reet. Based on this, action has been taken against Radheshyam. Similarly, evidence has also been found against all the remaining employees.
Share this story